We Celebrate 89th Birthday Of Commandante Fidel Castro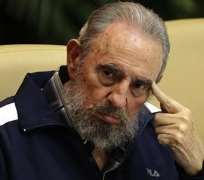 Fidel Castro has been Prime Minister/President of Cuba since 1959. Born on 13th August, 1926, he grew up in the remote northeastern Cuban province of Oriente where his family owned one of the area's largest sugar plantations. He attended a number of elite secondary schools in Cuba before studying law at the University of Havana, which had been a center of political activity since the 1930s. There Castro became acquainted with nationalist supporters and participated in political strikes and demonstrations.
Fidel's nationalist views and opposition to the puppet Batista dictatorship led him and his compatriots to assault on the Moncada Barracks on July 26, 1953 but to no success. He was arrested, tried, imprisoned and later released. He fled to neighbouring Mexico where he regrouped for the decisive battle that culminated into the collapse of the Batista Kleptomania in January 1959.
Castro had to face another battle, this time to resist United States imperialism and restoration of the lost dignity of Cuban people, which was sold for the dictator Batista's low evil desires. In 1961, the US recruited, trained, armed, financed and supported dreadful terrorists to overthrow the Cuban revolution resulting into the famous Bay of Pigs incident. The Cuban patriotic revolutionary forces, trained and disciplined successfully repelled the US led attack and capturing most of the criminal perpetrators. Fidel had survived 638 assassination attempts by the US on his life.
Commandant Fidel Castro is an extraordinary leader, a Commander-In-Chief (CIC) of revolutionary ideas, a God-sent Moses to deliver Cuba from the stranglehold of the filth of an obnoxious political cancer that had reduced the freedom and dignity of Cuban people to sub-human life. He had served the Cuban people throughout most of his adult life and set unbreakable records of nationalism, dedicated leadership, patriotism, selfless humanism and humility of a servant leader.
It has been universally acknowledged that Commandant Fidel Castro is a rare personality with exceptional role-model leadership qualities. His vision, mission, dedicated orientation, courage, sense of nationalism, enthusiasm, tenacity of action and revolutionary ideas are legacy and a measuring rod to guide others. Worthy of emulation, Fidel would forever set a record-breaking history as the incorruptible revolutionary legendary, who out of patriotism, dedicated work and selfless service to humanity succeeded in carving a new Cuba out of the ashes of the old, corrupt, Fascist and murderous dictatorship rule.
From the above, we, of the Hugo Chavez International Foundation for Peace, Friendship and Solidarity declare that posterity waits to judge and remember Commandant Fidel Castro as the icon of ideas, the beacon of hope and light to people around the world.
To Commandant Fidel Castro: Since the inception of the revolution in Cuba, you have always ready given yourself to the cause of peace, freedom and human dignity everywhere. You have fought and won many battles against your enemies. You have taught and coached many lives how to deal many challenges and equipped people for greatness. You have consistently demonstrated the humility of a God-sent Moses of our generation. You have won the soul of millions through dedication to upholding freedom and human dignity in every corner of the global village; to contribute to human happiness and promotion of universal responsibility.
No attempt can erase your name in the golden books. Deeply loved and respected by all people, you are a tremendous inspiration to all nations and denominations across the globe. We owe you gratitude for advancing the cause of equality and justice, and for speaking out against the growing gap between the few rich and majority poor.
Commandant Fidel Castro, it is not a secret to state that your noble service and dedication have impacted the lives of millions around the world. In particular, your consistence adherence to world issues such as peace, security; food production to achieve food security; and for governments around the world, especially African governments to invest on health, education, youths employment training, climate change, global warming, housing and decent housing for the happiness of present and future generations of Africans.
In this auspicious day, we thank Commandant Fidel Castro for his inspirational leadership and dedication to the struggle for freedom and human dignity. The Hugo Chavez International Foundation for Peace, Friendship and Solidarity joins the millions around the world to celebrate 89 birthday of Commandant Fidel Castro here inside our yet to complete office structure, which is located in the East of Freetown, Sierra Leone.
Today, 89 years ago, calculated to be 32, 506 days ago Angel Castro y Agrgiz and Lina Ruz González (parents of Fidel) celebrated the birth of their great son, Fidel Castro Ruz in Cuba. We wish Commandant Fidel Castro good health and many more blessings for being a genuine revolutionary leader and foresighted visionary.
We say: Best wishes to our leader on the 89th birthday of Commandant Fidel Castro. We thank God Almighty for His continued Guidance, Protection and Blessing for Fidel.
Read and Signed:
Alimamy Bakarr Sankoh
International Executive Director
IED