Kalu And The FIFA Presidency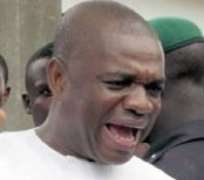 When the news of the FIFA presidential ambition of former Abia State Governor, Orji UzorKalu broke out, I initially took it with a pinch of salt and thought that some sycophants must have thoroughly massaged the ego of the sports loving former Governor to take the plunge.
One is not in doubt as to the love he has for sports. He was once President of the Judo Federation of Nigeria and so his interest in sports went beyond just football. He was named Pillar of sports in Nigeria after the demise of the late Chief M.K.O Abiola who held the highly esteemed title. As Governor of the state with the sobriquet of 'God's own state', he propelled the state owned club, Enyimba to win two African championship titles, Confederation of African Football Championship Title, Six Nigerian championship titles and three federation cups.
The CAF league championship cup had eluded Nigeria for 36 years and the jinx was broken when Enyimba won it in 2004. In 2003, he once joined the technical crew of Enyimba in the CAF champion league quarter-finals against USMA of Algeria. He sat beside the then Coach KadiriIkhana and inspired the club to victory against all odds.
His candidacy has received endorsements from two prominent Nigerians – Nigerian soccer Ambassador, John Fashanu and former executive member of both CAF and FIFA committee, Amos Adamu. The Nigerian Football Federation under the leadership of AmajuPinnickwas quite diplomatic in his response as to whether Kalu had the backing of the football body. He said the stakeholders involved would deliberate on it and get back to the Nigerian people.
There is a clause that is giving the supporters of Kalu sleepless nights. Article 13(1) of the FIFA Clause states that any aspirant for the exalted office must have been in active football in the last five years as a referee, club chairman, President of a Federation, Member of an Executive Committee and must be committed to the running of football in the last five years. Sadly, 2004 is about eleven years ago and one wonders how Kalu qualifies to stand for this election. Enyimba football club is owned by the Abia state government and he has not been involved in its running since he handed over power to his erstwhile chief of staff, Theodore Orji.
The stark reality is that he doesn't come an inch near in terms of qualification to run for this office which could make him a history maker as no black man or African has ever held it. In my personal view without any iota of offence intended, his running is more of an ego trip as he recently made the Forbes list as a dollar denominated billionaire. His wealth has been confirmed to use the Nigerian parlance and it is time for an expansion. The FIFA Presidency would give him enormous clout more than what even Roman Abramovich of Chelsea fame enjoys.
Ask Aliko Dangote who has been trying for the last five years to acquire Arsenal. Football has the potential to prop up an obscure personality into a global force to reckon with. Why do you think Mike Adenuga'sGlobacom is now one of the sponsors of the Manchester United Football Club. Orji UzorKalu is not a household name beyond the shores of Nigeria and he certainly doesn't enjoy one-tenth of the cult like following his predecessor, the late Chief M.K.O Abiola enjoyed while he was alive. He can't even be regarded as an Igbo leader. His loss of two senatorial elections in a row has punctured his myth and it seems he is desperately looking for a means to shore up his battered image.
Football seems to be the only answer. He still has unresolved issues with the Economic and Financial Crimes Commission. An unresolved conflict of interest arose in his setting up Sun Newspapers while still in office as Governor in 2003. In the west it is the practice for businessmen to hands off the direct running of their businesses while holding public office in order to avert the ugly incidence of conflict of interest.
Africa holds a strong place in the scheme of things with regards to the running of FIFA. This is the reason why the outgoing President SeppBlatter ensured that South Africa hosted the world cup in 2010 though its arguable that the Nelson Mandela factor weighed in heavily to enable this feat to happen.
However, Blatter did his best to advocate for this historic moment in football history to take place. Since the establishment of FIFA in 1904, there have been seven Europeans and only one Latin American – Joan Havelange of Brazil at the helm of affairs. Blatter has an axe to grind with UEFA as they are the brain behind his travails and the chances of UEFA President, Michael Platini looks bleak. This is the perfect opportunity for power to transfer to Africa as even Blatter will be willing to turn his back on European contenders as both a payback mission and his last minute opportunity to preach his much vaunted equality message.
The two main endorsers have grave moral question marks. Amos Adamu was indicted for corruption and was forced to give up his seat on the FIFA Committee. John Fashanu publicly gave thumbs up to disgraced and jailed former Governor of Delta State, James Ibori for building nine stadia in the state he mindlessly pillaged. No heavyweight who has the high moral ground on a global scale has endorsed his candidacy.
Africa has great moral issues and one who seeks to lead the body of the most popular sport in the world with a billion die-hard fans must like Caesar's wife be above suspicion. The issue of the credibility of his political science certificate obtained from Abia State University still hangs over his head like the Sword of Damocles. If Africa must make history early next year, she must do with her best foot forward.
TONY ADEMILUYI
Disclaimer:

"The views/contents expressed in this article are the sole responsibility of

Anthony Ademiluyi

and do not necessarily reflect those of The Nigerian Voice. The Nigerian Voice will not be responsible or liable for any inaccurate or incorrect statements contained in this article."
Articles by Anthony Ademiluyi