Adamawa Lawmakers Okays State Govt To Procure Credit Facility Of 8.7Billion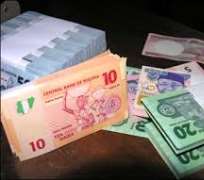 The Members of Adamawa House of Assembly yesterday (Wednesday) approved a letter forwarded to them by the state Governor, Senator Mohammed Umar Jibrilla thus: "Forwarding of accepted offer letter of credit facility".
According to Jibrilla the present administration were confronted with serious financial challenges incurred by the previous government, a situation that resorted the government of borrowing N8.7 Billion, the funds have been channel to urban and rural roads construction as while as rehabilitation of hospitals and other developmental projects.
Assuring them that the term loan (8.7b) would be consolidated and restructured with the State's existing term loan obligation of N11.7b with zenith Bank Plc.
At the House plenary session chaired by the Honourable speaker, Hon. Ibrahim Mijinyawa, the deputy majority leader, Mohammed Matawalle raised a motion to approve the loan facility seeking by the state Government.
Matawalle who is representing Gurin in the state constituency described the loan as a saving grace to the people of Adamawa state.
The chairman committee on Appropriation Budget and Planning that represents the people of Mubi South Hon. Abdulrahaman Abubakar Isa seconded the motion.
He described the loan as timely and will go along way in bringing infrastructure development in the state as there is no money to do that at the moment because of mismanagement of the State's finances by the past government.
Other letters approved by the lawmakers are: Request for the restructuring of all commercial Banks loans into Federal Government of Nigeria Bonds.
The commercial Bank loans owed by the state as at June 30,2015 show cases that Zenith Bank have an outstanding term loan of 11,700,547,558.6 and the same Bank (Zenith Bank) has another term loan of 8,700,000,000 that amounted to 20,400,547,558.6 with the state Government.
Another letter seeking Re-forwarding of Executive council Decision on Adamawa state Debt Restructuring/ consolidation of N12,803,763,500.00 with zenith Bank PLC by the Governor
"In this regard ,we hereby seek your kind consideration and the issuance of a House Resolution on the N12B debt restructured transaction that was consummated by the immediately past House". The letter reads
He further said that the federal Government of Nigeria is hereby authorized to restructure the commercial Bank loans into Federal Government of Nigeria (FGN) Bond on behalf of the state.