Nobody Can Make Me Work Against The Interest Of Adamawa People—Gov Bindow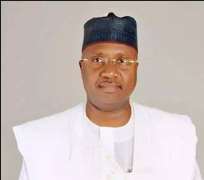 Gov Bindow Jibrilla of Adamawa has denied link to any political group in the state saying nobody can make make him work against the interest of people of Adamawa.
Jibrilla made this known during an interactive session with newsmen in Yola.
Umar said he was voted into office by the people of Adamawa and would never work against their interest.
" I don't have any god father, I don't have anybody that I will say I must get clearance from before working for the people. Nobody can make me work against the interest of the people of Adamawa.
" I am here to work, I want to be focused on what the people voted me for. They people of Adamawa saw what I did in the senate and decided to vote for me this time as governor".
The governor who rated himself high in areas of performance said with 27 rural and urban roads projects being executed alongside other projects within his two months in office, his administration has gone far while others where trying to stabilize.
Bindow added There is no governor that did what he is doing within two months in his stay in office so such all the acclaimed political Father of his should allow work for the interest of Adamawa people.
Bindow who spoke on his recent visit to Dubai said he was able to attract a firm that would built 300 bed capacity hospital in Yola.
He said the firm who would invest 32 million Euros in Adamawa and one other state would operate the hospital for 20 years before handing over to the state.
On federal government bail out, Bindow said he was yet to receive it saying when ever it is available the public would know.
On his empowerment programme, the governor said that all necessary arrangement has been put in place for the take off of the programme known as Bindow Social Change (BSC).
The governor who also spoke on a letter from Cameroon on release of excess water from Lagdo Dam, said his administration has commenced public enlightenment with a visit by him to some riverine communities to alert them on the imminent danger.
He urged the public particularly those in flood prone areas along River Benue and Gongola to take precautionary measures to avert what happened in 2012 when water from the dam led to lost of many lives and properties worth billions of naira.