Post Insurgency Plan: Borno Builds Seedling Production Centre, Acquires 845 Tractors, 1416 Planters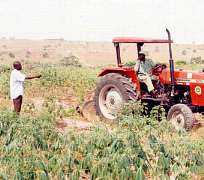 The Borno State Government has taken to a completion stage an ultramodern farm centre for the production of improved seedlings that aim to multiply yields for farmers. The State has also taken delivery of 845 additional tractors bringing to total, 2000 tractors in stock just as it equally took delivery of 1416 planters to add to its stock.
All the farming equipment were imported as part of the Government's post insurgency plan for commercial agriculture in rural areas as soon as Boko Haram insurgents are defeated.
Governor Kashim Shettima who inspected the equipment on Tuesday at the Borno State Agricultural Mechanization Unit along Dikwa road in Maiduguri disclosed to the press.
The Governor also assessed 25 combined harvesters acquired by the State noting that in the whole of Nigeria, there are currently a total of 56 combined harvesters out of which Borno alone has 25.
Shettima also assessed dozens of green houses and machines installed at the seedlings production centre which is expected to be the supplier of improved seedlings required by farmers to produce high yields such as what obtains in developed countries.
The Governor also assessed equipment for drip irrigation as well as large cooling systems needed in nursing seedlings, both of which have been installed at the seedlings production centre. Shettima said he has acquired so much agricultural equipment and has sponsored citizens to India and other countries for training on usage, maintenance and re-installation of the equipment.
He said Borno was set for post insurgency agricultural activities but was awaiting a window of peace in rural communities adding that the State plans to establish agro processing factories to take advantage of high production of tomatoes, pepper and other crops in different parts of the state.
Shettima said the State had taken delivery of large, medium and small scale rice mills pointing out that all equipment will be allocated to farmers through cooperatives and community settlements associated with various agricultural activities.
"From what you all have seen here, Borno is set, we have so much equipment to take the drudgery out of agriculture, all we need is a window of peace in our rural communities so that we can unveil our massive plans. Our programs will be community driven and we will have so much bias for women because they bear the brunt of the insurgency, they are the people taking care of orphans and their homes, we will train them to be self sufficient.
"Capacity development leads to efficient utilization of equipment as well as maintenance, we have invested so much in capacity development and it will be a continuous process. I have just directed that 200 additional youths should be engaged by the seedlings production centre for comprehensive training. We are set and peace will soon return insha Allah for us to achieve our good objectives" he said.
The equipment acquired were imported from United States, India, Thailand and Egypt by the Governor who led teams of experts to identify and go into agreements with manufacturers for customization of technology to suit the needs of the State.