President Buhari Watch Out For Competing Power Struggles And Ambivalence In Your Mission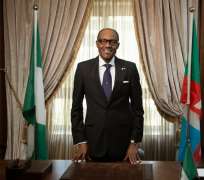 Dear President Muhammadu Buhari,
Just a few months into the presidency of our emerging society called Nigeria, and after a few weeks of returning from international visit you reminded the people of your mission to remain a God fearing antipoverty and anticorruption crusader.
So when the good people of Nigeria recently watched as within one week what looked like a play of political visits by the powerful to your person, it appears that a triangular form of power struggle between these persons of influence is at play.
Mr. President, whether these visits were planned or sudden what appears to be in the open is the uncomfortable ambivalence, tension, pain or even smile you might have felt or may be feeling now after these visits or invites.
Mr. President, as the whole political father to us all be aware that good people never pretend to be evil, but many times, evil people pretend to be good so what you just experienced from these competing leadership visits is a simultaneous conflict between feelings to fight for collective good of the nation or appeal to disloyalty on behalf of the powerful.
President Buhari the people will never know what occurred during each meeting but what was clear was that former President Goodluck Jonathan, and former President Olusegun Obasanjo the now two political enemies showed up respectively with the first on Thursday and the other on Friday.
In what appeared to be a worried visit we saw known sympathizers of Jonathan, who belonged to a collection of interfaith peace panel led by a former military Head of State, Gen. Abdusalami Abubakar equally coming to see you.
President Buhari, as we now know from the media these persons of peace panel in an unusually defensive manner rained on your military past as if you are still an active military despot single handedly fighting corruption.
Mr. President, this sort of after visit statements from the peace group, in effect, could create ambivalence or worry in you but here is the good news, the Constitution, the people and the world are on your side.
As such the internal struggle of leadership and ambivalence of values you might have experienced will be undermined by the positive strength of true leadership in you.
Mr. President, the best way to handle Nigerian type of leadership known for its selfish impulses, pretension and hypocrisy, is for you to consciously grow hurtful of the damage that has been done to Nigeria and its people.
Mr. President, as you wake up daily in good spirit and health, remember these words of yours as you govern "I belong to everybody, and I belong to nobody" and unlike many past leaders of our emerging nation focus on your mission which include reducing poverty, sinking corruption, repairing the criminal justice system, improving governance and deepening democracy so quality education, health, transportation, electrification, investment and security could fairly reach the people.
Dr. John Egbeazien Oshodi is a U. S. based Forensic/Clinical Psychologist, a Consultant in National Psychology, and a former Secretary-General of the Nigeria Psychological Association. [email protected]
Disclaimer:

"The views/contents expressed in this article are the sole responsibility of

John Egbeazien Oshodi, Ph.D.

and do not necessarily reflect those of The Nigerian Voice. The Nigerian Voice will not be responsible or liable for any inaccurate or incorrect statements contained in this article."
Articles by John Egbeazien Oshodi, Ph.D.