Hitachi Data Systems Partners With MITSUMI Distribution To Expand Reach In Africa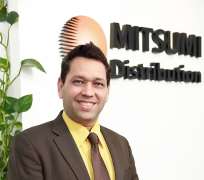 5th August 2015 – Hitachi Data Systems (HDS) and MITSUMI Distribution have announced their strategic partnership, reinforcing both parties' objective to expand HDS product and solutions reach in East and West Africa. This is set to strengthen HDS's position in these markets, with the co-investment in technical support staff, sales and market activities. In addition, MITSUMI will recruit partners to work with the enterprise team to sell and support HDS solutions.
HDS offers best-in-class IT services and solutions providing measurable business impact. MITSUMI Distribution is the largest IT, consumer electronics and telecommunications distributor in Africa and believes in value distribution as a significant contributor to bottom line.
Commenting on the partnership, Mitesh Shah, Managing Director of MITSUMI Distribution, says: "There is immense potential in the African market. With new technologies constantly hitting our shores, we will see a lot of innovation within the distribution space. We are truly excited about this strategic business partnership as we feel that HDS has top notch products and solutions that are exceptional in the market."
MITSUMI offers several key benefits for HDS to grow successfully in East and West Africa. These include a specialised separate service centre , providing high quality service for vendor partners and clients across the region; in-country sales and pre-sales consultants; and an authorised warranty and service centre.
Vic Booysen, Channel Director at Hitachi Data Systems, Sub Sahara Africa & South Africa (SSAF) comments: "MITSUMI has established a reputation as one of the most dependable and customer-centric distributors in Africa. It has a Pan African distribution strategy, strong in-country presence and the right marketing campaigns to take IT distribution to the next level. This is essential for us as we look toward expanding our presence across the continent."
About MITSUMI Distribution:
Established in Kenya since 1996, MITSUMI Distribution is the largest IT, CE and TELCO distributor in Africa. They are authorized distributor for leading global IT brands. Their growing brand portfolio includes Acer, APC, Asus, BenQ, Canon, Dell, Fluke Networks, HP, Hitachi, Intel Approved Supplier, IBM, iSurf, Lenovo, Microsoft, Polycom, Riverbed, Samsung, Sandisk, Toshiba, Tripp-Lite, WD & ZTE.
MITSUMI is a leading and fast growing technology distributor in Africa because of its Pan Africa distribution strategy/vision, aggressive expansion, regional geographical coverage and extensive customer base. MITSUMI has 15 warehouses and 8 service centers in Africa. For more information, visit www.mitsumidistribution.com