Obiano – Governor to Watch by Ebere Wabara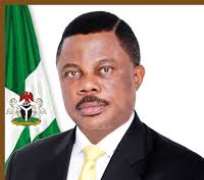 When, most distinguished professionals take charge of governance, the likelihood of quintessence enjoys optimality. I recollect clearly, as if it were yesterday, the irrefutable excellence of the immediate-past gov­ernors of Katsina, Delta and Enugu states, Barrister (Dr.) Ibrahim Shehu Shema, Dr. Emmanuel Eweta Uduaghan and Barrister Sullivan Chime, respectively.
These men appreciated and delivered the essence of good governance.
Lest I am misconstrued, not all professionals perform creditably in administration. There would always be exceptions just like other issues in life, but the rule of the thumb is that expectations are usually high when such people are given tasks at summit level. In the same breath, even my ideals here may not be exemplars to a few hypercitics, who, naturally, have the inalienability of personal reservations and grouses about men of accomplishments in the eyes of the largest spectrum of the society. It is critical and germane to underscore this fact as we proceed.
Since the revalidation of democracy in Nigeria in 1999, the South East has been unfortunate with those who occupy the Government House. On a comparative note with other regions in the country, this axis is the worst in terms of virtually all parameters of development, particularly social infrastructure institutionalization. Apart from self-help human capital transformation, there is probably nothing else to cheer about in celebratory satiety.
Again, there had been exceptions like the late Dr. Samuel Onunaka Mbakwe (De Sam) of the old Imo State, Barrister Chime (aforementioned) and business icon, Mr. Peter Obi, former governor of Anambra State. It is important to note that, unlike the ubiquitous and loquacious governors who celebrate sinking of boreholes in their states (which a few youth corpers also do as part of their exceptional community service!) in this age with all the superfluous funds, par­ticularly unaccounted security vote, at their disposal, my referential governors did not engage in propaganda, obscenity of transnational wealth acquisition and other forms of audacious revelry and banditry.
This Saturday, August 8, 2015, by God's grace, the diligent governor of Anambra State, Chief (Dr.) Willie Maduabuchi Obiano, will attain 60 years!
You can now comprehend the correlation between the foregoing prefatory lines and this commemorative article in toast of a man that has the inclination to make a difference and even better the records of the industrious and illustrious beacons mentioned earlier. His achievements in just one year speak volumes.
He has an unquenchable thirst for the meaningful transformation of his state. His hunger for the rediscovery and renewal of Anambra State is unparalleled. Space constrains detailing here: go online for his dossier and be amazed.
I am not astounded at all by his achievements so far and the promise he holds because of his professional antecedents. Having left Fidelity Bank PLC as an Executive Director responsible for a portfolio that placed him next to the Managing Director/CEO in hierarchy, among other global employment antecedents, there is no way that Dr. Obiano would not Improve on his inimitable reputational pedigree while in Awka, the state capital.
I make this avowal knowing what it takes to be an executive director in a top-flight bank having worked in one as a marketing communications manager before moving over to Globacom Telecommunications as a public relations manager years back. With such a financial management background at the summit level, it would be preposterous and utterly disappointing to expect any contradiction in Dr. Obiano's leadership. If this assertion is wrong, I do not want to be right!
From all indications, I have the conviction that this exemplary celebrator will distinguish himself from all his South East fossilized predecessors with the exclusion of Obi and Chime, both of whom left in­delible marks, in an era of political charlatanism, power rascality and ludicrous personalization of public wealth.
It is this insatiable domestication of patrimony that has left the zone almost beyond the point of redemption despite the arduous re-engineering efforts of the troika (Messrs Chime, Obi and now Obiano).
Already, some Nigerians are advocating second-term tenure for Dr. Obiano based on his accomplishments in less than two years of his eventful tenure. There is no need to campaign for an encore for this governor because profundity of his good governance guarantees him even a third chance if were constitutionally possible! Our performances in any sphere of life will speak volumes for us in testamentary circumstances.
Mechanistic bedlam about usually pedestrian routines and statutory responsibilities smacks of trivia. Ex-Governor Chime transformed Enugu State beyond imagination and recognition without any hype in the media. In fact, the only time he became visible in the media was when he was indisposed and detractors were bent on making a mountain from the ill-health molehill.
As the 'Working Willie' (Akpokuedike Aguleri) adds another year this week-end, it is my belief that he will improve on his subsisting rising profile and enthrone new templates for his peers to emulate. At the end of the day, his legacies would live eternally long after he has quit this environment. We are not God, but I foresee him doing better than my preceding treble provided he does not become euphoric over his profuse enhancement of Anambra State. For me, Dr. Obiano is the governor from the South East that needs to be watched as he restores the glory of Nigeria's foremost state with regard to the number of eminent Nigerians it has pooled for the country.
For four consecutive weeks preceding his election, I had declared in four different articles, that Dr. Obiano would succeed Mr. Obi based on insights aforementioned. In fact, in the last essay three days to the governorship poll in the state, cowardly col­leagues of mine unilaterally and unprofessionally changed my authoritative headline, "Obiano: Victory foretold" to something watery that I cannot recollect now without resort to my modern mini-library having lost my HP Laptop containing the soft copy to Ochendo and his police accomplices who raided my home last year and bestially abducted me!
Your Excellency, you may not know, there is virtually nothing I have not said about you before now except Happy 60th Birthday! Everyone is watching you, for good reasons, too. May your days be long on earth having done the first half gracefully—the second lap commences this Saturday! And so shall it be. Roll out the drums in deserved conviviality.