PDP DENIES MAN WITH 86 WIVES MEMBERSHIP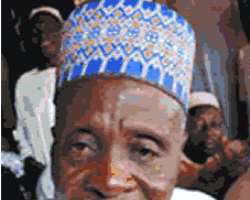 Alhaji Bello Masaba, remember him? The 87-year-old world renown polygamist, then married to 86 wives, may soon be back in the trenches with the Niger State Government over the refusal of the People's Democratic Party (PDP) in the state to register him as a member of the party.
Masaba was for most part of last year engaged in legal battle with the state government which charged him under some curious provisions of the sharia law for marrying more than four wives prescribed by the Quran for Moslems. Government later withdrew from the case for want of evidence.
This time, the battle may have moved from the legal turf to the political battle ground, where Masaba has vowed to engage both the state government and the Etsu Nupe, Alhaji Yahaya Abubakar, in a battle of political supremacy.
Daily Sun reliably gathered that when the Islamic cleric appeared at the Etsu's palace where the registration was taking place, he was turned back by the registration officials who claimed to be acting on orders from above.
Masaba was said to have stormed out of the palace in annoyance, vowing to make sure that no single vote from his Masaba ward will go to PDP in next year's general election. A chieftain of the party in Bida, Alhaji Isah Lakpene, who confirmed Masaba's denial of registration said the matter has become a source of concern to PDP members in the area, as no constitutionally sustainable reason has so far been adduced for the refusal to admit him into the PDP fold.
'I have to find a way of getting the governor to know about this. If we fail to register Masaba we stand the risk of losing about 1,500 of the 2,000 votes in the ward,' Lakpene lamented, stressing that he was sure Governor Muazu Babangida Aliyu may not be aware of the development.
Meanwhile, the Islamic cleric last weekend gave five of his daughters in marriage in Bida. Family sources revealed to our correspondent in Minna that despite the hue and cry over Masaba's perceived unislamic matrimonial status, two of his sons-in-law are said to be children of highly placed personalities in Bida. One is even said to be the son of a traditional title holder in the ancient city. Daily Sun can also authoritatively reveal that the number of Masaba's wives has since risen to 100, and he is still counting.