ANTP crisis: Only elders can solve it – Baba Wande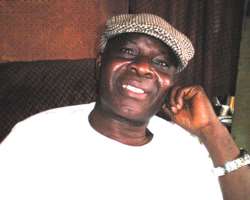 THE chairman of the Interim National Executive Committee, Alhaji Kareem Adepoju (a.k.a Baba Wande), has suggested two ways out of the present leadership crisis rocking ANTP (Association of Nigerian Theatre Practitioners). After a series of meetings with Dr. Yemi Farounbi (BOT chairman), Prince Jide Kosoko (past president), Dele Odule and Comrade Ashaolu, aspirants to the post of the association's national presidency, Wande urged the stakeholders to allow each of the two aspirants to head the body for four years each, or they allow one of the aspirants to rule for two years and the other for four years.
Asked how the decision on who should rule first be arrived at, he said it was in the hands of ANTP elders.
Optimistic that either of Odule and Ashaolu could handle the mantle of leadership of ANTP, the interim boss said the aspirants are "100 per cent fit to lead because of their past records, but it still falls on the elders to rise as one and stamp their feet. Ours is not a political association, it is a cultural association," he said.
On reports that he was Ashaolu's stooge in ANTP, the actor said it was true he knew Ashaolu, but the elders had selected him to help proffer solution to the crisis rocking ANTP after the stoppage of its presidential election sometime in February.
He insisted that there would be no credible election in ANTP if the present crisis was not addressed.
"We had planned to tour the states but for our financial status. There can not be a free and fair election if the crisis is not ended," he warned.
Story by nollywoodgists.com