Adamawa House Of Assembly Passes Vote Of Confidence On Speaker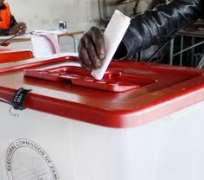 Members of Adamawa House of Assembly on Monday passed vote of confidence on the leadership of the House under the Speaker, Alhaji Kabiru Mijinyawa.
The development came as the house resumed from five weeks recess in the wake of rife speculations that the speaker and other leaders of the House will be removed.
A letter endorsing the speaker signed by 23 out of the 25 members of the House was read by the speaker who later called members one by one to confirmed their signatures .
In their respective submissions at the plenary, members lauded the house leadership for its commitment to transparency and quality leadership.
In his submission, Abubakar Abdulrahman (APC-Mubi South) who is the chairman of the House Integrity Forum, described the the speaker as a team player who carries everyone along.
Speaking on the development, the Speaker, Alhaji Kabiru Mijinyawa, thanked the members for the confidence reposed in him and urged them for sustain support.
" I thank you for the confidence reposed in me and promise not to disappoint you in steering the affairs of the House" , Mijinyawa said.
Mijinyawa said he was bombarded over the week with phone calls asking him what was wrong in the house.
" With this vote of confidence I hope things have been put to rest", Mijinyawa said.
The lawmaker took the decision to lay to rest of the incessant rumours crossing the corners of many residents of Yola of an impeachment plan to oust out the speaker and his deputy