The Significance Of US Presidential Working Visit To Africa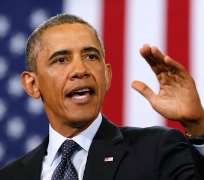 With his first and second visits to the continent he emphasized the need for African governments to build strong institutions rather than strong men. With the third, and probably the last before his presidency ends in 2016 business and governance according to American values were his recipe for strong growth and development in Africa. Of course he recommended training for the teeming youth to divert their attention from the influence of rising terrorism.
He scolded government leaders extending the limits of their constitutional provisions like in Zimbabwe, Uganda , while Burundian Nkrunziza was celebrating a third term election held amidst protests and violence. Although he sermonized and admonished them on what appears to foster democracy, growth and development, it is the responsibility of enlightened and patriotic electorates to elect the government competent enough to promote socio-political lives of its people. The elected government may be unpopular because the electoral process that produced it did not meet global best practices recommended by America.
One wonders what was going on in Paul Kegame's mind as he sat listening to President Obama. His third term bid at Rwandan presidency is reportedly headed to the rocks if the people's interpretation of the 2003 Constitution which s.200 therein provides as the supreme law of the state is followed to the letter. This is because by 2017 when he has completed his second term in accordance with Article 101 of the Constitution, which allowed a total of 14 years no loophole, ambiguity or contingency can be manipulated by the judiciary or the electorates to give him a third term. If this position is accurate why is his third term bid gathering momentum? The answer appear to be a handful of the President's cabinet and supporters bent on removing the maximum two-term tenure of the office of the president.
Many arguments have been advanced by proponents of the amendment including the indispensability of Paul Kegame by reason of his achievements. It was also vigorously canvassed that a new president would need a lot of time to move the nation forward from where Kegame might have stopped, when the incumbent would have made faster progress from there. However, for his opponents none of those arguments is ever the case because of Article 101. For them the real issue turns on the alleged war crime in Democratic Republic of Congo (DRC) and Rwanda mentioned at the International Criminal Court (ICC).
It is the belief of the opponents that the reason why Paul Kegame would seek a third term come 2017 is to protect himself from being prosecuted by the ICC. The fact that a sitting president enjoys immunity from prosecution by ICC, and the mutual respect accorded by sovereign nations lend credence to this view.
Even if this is the case how feasible is it for Paul Kegame to achieve the constitutional amendment that would legitimize his third term. It was argued that no such amendment could be possible under s.101. However, exploration of its possibility through s.193 which allows the president and cabinet to propose the amendment is bound to face stiff resistance because it made rigorous provisions that may not be met. For instance apart from the resolution passed by two-third majority of the bicameral legislature for constitutional amendments, in the case of voting for the amendment three-quarters of members of each House must support it for success, without which it fails.
In addition to the foregoing strict conditions since the amendment concerns the alteration of the limits of the tenure of the presidency there has to be a referendum after the two houses had gone through the rigorous processes. It is this feature of referendum lacking in Nigeria's 1999 Constitution that makes provisions inviolable.
However it is the opinion of experts on Rwandan constitution that Article 101 has been entrenched and remain irrevocable; especially with such words as "under no circumstances". If this interpretation is accurate it therefore means that Article 193 would not apply because of the entrenched clause. Rwandan electorate may not need president Obama's sermon to stem the spate of exceeding constitutional limits rampant in Africa.
He could not have completed the epoch speech without talking about widespread government corruption. Corruption in almost all spheres of African leadership has become a recurring decimal.
In accounting terminology every nation is a going concern. That means that human and organic beings cannot stop breathing to remain alive. A corporate entity dies when liquidation takes place. So you can hardly imagine when countries like G8 nations where government corruption are marginal would die. Comparatively, when you become aware of the magnitude of funds embezzled by officials of African governments which is capable of leaving the countries bleeding to death you shrug as to how their existence remain a miracle.
If Obama's presidency produced change in America, his epoch speech at the unprecedented African Union audience must be significant to African leaders. However, for that to be meaningful there has to be change in the perception and practice of governance in Africa.
Iyke Ozemena
IKECHUKWU O. ODOEMELAM & CO
Corporate Attorneys/Consultants
Disclaimer:

"The views/contents expressed in this article are the sole responsibility of

Iyke Ozemena

and do not necessarily reflect those of The Nigerian Voice. The Nigerian Voice will not be responsible or liable for any inaccurate or incorrect statements contained in this article."