APC USA International Calls For An Investigation Into Gen. Odidi's Botched Appointment In DICON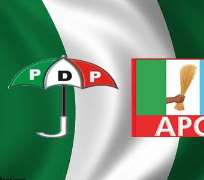 Was General Odidi's enrollment in Administrative Staff College of Nigeria (ASCON) is to prepare him for Promotion or a diversionary plan to deny him ascension to the DG post in DICON?
What kind of bizarre undertaking is that? Was this supposed appointment some schematic design with the specific purpose of embarrassing the general? Or, does the general's technocratic ingenuity so a much threat to the establishment? Someone correct me, were people of the general's credential not what the Buhari administration stated it desires in leading our ministries and parastatals? NICON is yet to provide any justification for sending General Odidi to ASCON. What kind of training will the general receive from ASCON that will better prepare him for the DG post that he has not already possess?
It's becoming glaringly clear the Buhari Administration is going to face strong opposition from those have been entrenched the old methods of civil service. Major General E.R. Chioba, the outgoing Director General of the Defence Industries Corporation of Nigeria (DICON) refusal to handover to his would be successor Director General, Brigadier General Augustine Odidi on July 20th is ominous and disturbing. General Chioba's indefensible action may not have the blessing of the president or his senior advisors, whose wish is to assure success at DICON.
What is surprising and alarming is that this is happening under President Muhammadu Buhari's doorstep. Those satisfied with the status quo are using the smoke and clouds of the confusion to continue their assault on our economy and on our national psyche. Their actions are tantamount to the most organized structure in the world, known to as "Esprit De Corps". Posterity will not forgive us, "What Goes around Comes around!"
There are no doubt Nigerians need answers to our continuing questions:
Who are/is behind this saga?
Was the promotion/appointment a mistake?
On what grounds was promotion declined?
What has he done to warrant this?
Whose toes did he stepped on?
Who instructed the refusal to handover?
Are these new service chiefs' intervention strategies?
Why was he asked to proceed on sabbatical ASCON training?
Is he not capable with his current wealth of experience to run DICON?
What happens after ASCON training: Promotion or Retirement?
What will be done to the officer that refused handover; promoted or retired or honored?
What will happen co-conspirators?
Will there be a thorough investigation?
What is the qualification of incoming officer?
Did he attended ASCON before this posting?
What message will this convey to general public?
How can you regain public confidence?
Is the President aware of this saga?
Did all DICON past and outgoing DGs go to ASCON first before assuming positions?
Attendance of ASCON is a new requirement to attain such positions or higher?
What is the evidence to enforce ASCON training on would be DGs?
How does DICON fair against foreign DICON such as the one in Brazil?
APC administration cannot be associated with this mishap, if it aspires to be seen as agent of change and integrity. President Muhammadu Buhari must hear this and take urgent action to uphold folks without God fathers, as mentioned in his recent inaugural speech, "I belong to everybody and I belong to nobody", folks like Brig. Gen. AO Odidi looks up to you for security, safety and justice. Furthermore, Justice delayed is Justice Denied! Believing with the appointment of the best Industrial Engineer to DICON; it will bring about a new leaf of business in DICON, while aspiring Nigeria combat readiness. The Buhari Administration must let us know why it stands on the blockage of General Odiddi's appointment.
Below are achievements/comparative analysis of Brazil and Nigeria Defence Industries Corporation, both were established in 1964. As you can see, Nigeria is way behind Brazil, while Brazil is booming in ammunition, aircrafts ordeals, profits, etc. A status Brigadier General Augustine Odidi was equipped to take DICON in a jiffy.
Defence Industries Corporation of Nigeria Achievements:
Achieved an unprecedented feat in the engineering field. The achievements can be traced to 2004 when DICON successfully produced prototype medium range weapons namely 60mm mortar, 81mm mortar and the RPG-7. The weapons were successfully test fired at the Kachia range with the former President, Chief Olusegun Obasanjo in attendance.
The Corporation has produced locally an assault rifle similar to AK 47, and is awaiting a new production line for the rifle.
Apart from the aforementioned ongoing activities at DICON, the Corporation has also enhanced its production capabilities in other areas such as local production of ceremonial swords which hitherto were imported. It should be mentioned that the military ceremonial swords used at the NDA passing out parade on 28th September 2007 were all produced in DICON.
The Corporation has also successfully completed the production of Army Field Kitchen. The project was undertaken using 100% local content. The Nigerian Army placed an order for the manufacture 10 field kitchens following an inspection visit by a team led by the Chief of Defence, Research and Development. In essence, DICON now possesses the capacity to sustain production with little or no external inputs.
Is planning to establish a new production line for the manufacture of 7.62mm x 39 ammunition which is the preferred ammunition by the Security Services. This informed the Corporation's current effort to develop and mass produce a Nigerian version of AK47, which uses the same 7.62mm x 39mm ammo.
Defence Industries Corporation of Brazil Achievements, Defence Talk Newspaper publication dated August 23rd, 2012 enumerated Brazil below:
Industry is booming, fueled by government incentives to modernize the country's armed forces and develop a robust, export-oriented military industrial complex;
The world's 30th largest economy, was ranked as the world's eighth largest arms exporter in the 1980s but today languishes in place, according to industry experts;
Still boasts the biggest armed forces in the region;
Budget reached $36.6 billion, the world's 10th largest, according to the International Institute for Strategic Studies;
Beginning in 2016, planning to resurrected and develop first nuclear-powered fast attack submarine;
Launched a joint venture with the Italian firm Oto Melara to produce cannons in Brazil and set up a maintenance center for Latin America;
Joint projects for new KC-390 military transport plane being developed by Brazil's top plane maker Embraer;
Market is attracting foreign interest despite the world economic slowdown;
Has bought conventional submarines and helicopters from France, insisting on technology transfer and assembly on its territory;
Government decision is awaited on awarding a multibillion dollar contract for 36 fighter jets, etc.
With the advent of new Service Chiefs, we don't envisage handover refusal to Brig. Gen AO Odidi, and send forth ASCON training notified July 29th. Whatever the matter will this issue should not be swept under the carpet like past regimes, while the entire country is rebuilding trust in the Military. It is unsure if this was true, that Major General E.R. Chioba used the Sallah break as a yardstick not to handover, stated are you here to arrest me and working on the directives of my superior officers, he added.
However, this press release will not miss Mr. President's attention, while Nigerians awaits the aftermath of Administrative Staff College of Nigeria (ASCON) Training: Promotion or Retirement. It is not expected Nigerian Army will ever compromise steadfastness, Professionalism, etc.
APC USA International Secretariat