Jandedmart.Com Commences Online Shopping And Shipping Services From Uk And USA To Nigeria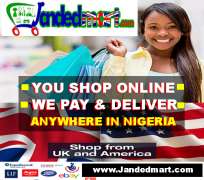 Latest tech start-up to grace the Nigeria tech ecosystem is jandedMart.com. JandedMart offers users services they have been deprived for long at rates anyone can afford.
According to the company, they want to leverage on technological innovations, to make ordering from overseas simpler by the day and ensure client experience be the major factor that brings them back.
Users can now order from any of the best online shops or websites in UK and USA just by visiting the JandedMart website, registering and filling the order form. One can now easily buy from Amazon.com or Amazom.co.uk, Ebay.com or Ebay.co.uk, Macy's, Zara, Next, Mark & Spencers etc.
Delivery is expedited and ranges from 5-13 business days at very competitive rates.
Simple Ordering Platform
The ordering platform has been simplified for the most internet un-savvy of users with a simple and straight forward order form that allows you to fill as many items as possible. On submission the sales team computes and send you an invoice.
JandedMart has a US office located in North Carolina which handles all orders from the US including heavy duty machineries and Car orders- "We will go right where your car is, pay for you and process shipping and clearing in Nigeria and the car delivered to you, says E.E. Ekanem who is JandedMart's Head of Strategy. This can save you hundreds of thousands or millions of Naira. With the added assurance you are not buying an 'accidented' vehicle, you can't afford to buy your next car without us".
He added that " we also offer premium car purchase services where we use our discretion to select a good vehicle for the buyer after test driving, and cross checking other essentials to ascertain the health of the vehicle. The process is a process that carries the buyer along from start to finish and we even send videos of the car engine running, to allow you assess the engine sound etc. So you can see what we are offering is novel".
There is also a UK office located in Birmingham in charge of all UK transactions while the Head office in Surulere, Lagos Nigeria, coordinates all services and delivery to clients' homes and offices.
You can also place order on the go as our app is designed to work seamlessly on all platforms whether Blackberry devices, Android, Ipad, Iphone, Windows and Mac. It has been rated as 'Awesome' by Google's Mobile-Friendly Test.
New users are automatically rewarded with $5 or £3 just for signing up for free. We cover over 600 websites and give you access to over 10,000 products in fashion, electronics, household items, kitchen, health, fitness etc.
Start ordering. Visit www.jandedmart.com and get your reward. Call: 0802-807-3467, WhatsApp: 070-106-160-55, BBM: 5678F64A