RIVERS APC CALLS FOR TRIAL OF WIKE, OTHERS FOR MURDER
.....As It Congratulates Peterside On Election Tribunal Victory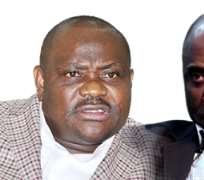 The All Progressives Congress (APC) in Rivers State has made a passionate appeal to President Muhammadu Buhari to hasten to fulfil his pledge that those who perpetrated various acts of violence during the last general electors would be duly punished so as to serve as a deterrent to others who may be contemplating such acts in the future. "We appeal to our Dear President to quickly look at the issue of Rivers State, where Chief Nyesom Wike and other Peoples Democratic Party (PDP) henchmen planned and executed a mind-boggling campaign of violence that claimed over a hundred APC members and supporters in their desperate bid to capture power.
Wike and his people should be prosecuted for murder without delay to restore hope to the families whose breadwinners were slain during the elections. Wike and his evil collaborators should be brought to justice, as this is the only way the souls of our people killed because of these elections can rest in peace," Rivers APC said in a statement on Thursday in Port Harcourt and signed by the Chairman, Dr. Davies Ibiamu Ikanya.
The party told Chief Wike to correctly read the handwriting on the wall and start packing his bags in readiness to leave the Rivers State Government House which he has been occupying since May 29 due to the wrong verdict of the Independent National Electoral Commission (INEC) announcing him as winner of the April 11 governorship poll in the State. "We happily welcome the striking out, yesterday by the Rivers Governorship Election Petition Tribunal sitting in Abuja, of the eligibility suit filed against the APC gubernatorial candidate, Dr. Dakuku Adol Peterside, by Chief Wike. With this, the stage is set for the unraveling of the big scam that saw Chief Wike illegally occupying the Rivers Government House. For Wike, there is no more hiding place. He should start packing his bags as his ouster is imminent," Rivers APC said.
The party congratulated Dr. Dakuku Peterside for all the successes he has so far recorded at the Tribunal and urged him not to relent until the infamous victory of Wike against the wishes of Rivers State and her people is completely upturned. "We remain fully convinced that Dr. Peterside is the popular choice of Rivers people and that he will retrieve his stolen mandate sooner than later," Rivers APC said.
Long Live APC!
Long Live Rivers State!!
Chief Eze Chukwuemeka Eze,
SSA Media and Public Affairs to the State Chairman, APC Rivers State.
30-07-15