Dear Buhari, We Youth, Hunters, CJTF, Ex-Servicemen Are Ready For The Jihad Against Boko Haram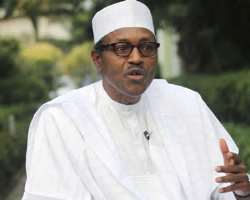 Reading today in the Vanguard how Boko Haram terrorists ravaged Dille , killing the helpless inhabitants in the mostly Christian village at sight; we are resolved to join the war for the sake of our people and love of our Creator.
As you seek help from the West and East and source airplanes; Boko Haram does not have fighter planes. They are people like us, but even less than us in heart, faith and mind. We are ready to engage them one for one and those of us who die will be martyrs, heroes, proud.
Dear President, let fighters fight and let us not leave innocent villagers unprotected and defenseless.
We appealed to former President Ebele Jonathan in April last year to give us executive authorization to mobilize and take the war to Boko Haram but he ignored us. Now it is your turn. We respectfully seek your authorization so we can mobilize support globally and convene an army of patriotic civilians the world will remember.
We believe in the collective will, prayers and support of Nigerians and the global community to assist our endeavor. We will only request considerate funding from your administration toward purchasing protective gear and arms. We will use our vehicles and empty our wallets to buy our vests and guns.
Dear President, this morning I have spoken to brothers and comrades, I asked if they are ready to die. They said they are ready to take it to Shekau and die proud.
With tears in his eyes a comrade responded today, "the tree of liberty is watered by the blood of tyrants and patriots."
Ibn Fadlallah warrior Hunters with Civilian-JTF liberated Mubi at the behest of Governor Ngilari, as you recollect. Civilian-JTF have been the first-line in protecting Maiduguri and towns and villages across Borno.. We (Civilian-JTF and hunters) were denied by Governor Shettima when we asked permission to go after the terrorists and raid Sambisa. The hunters know the terrain. Grant us the go ahead so we can prepare for this battle. Our people should not stay defenseless as lambs for slaughter for any extra day.
Our youth in Borno are not yet ready to be paid street cleaners. They are ready now to liberate their state, rebuild it and return to their farms and enterprises.
At your command you will see a united army from the Niger Delta to the Adamawa Plateaus; from the East to the West, North to South that will gather to liberate Nigeria, our abducted girls and suffering villages.
It is time to end this scourge. By the grace of God we can. No force of terror can defeat our collective will.
Dr. Peregrino Brimah; http://ENDS.ng [Every Nigerian Do Something] Email: [email protected] Twitter: @EveryNigerian
Disclaimer:

"The views/contents expressed in this article are the sole responsibility of the author(s) and do not necessarily reflect those of The Nigerian Voice. The Nigerian Voice will not be responsible or liable for any inaccurate or incorrect statements contained in this article."
Articles by Perry Brimah, Dr.