KYRGYZSTAN PLEDGES TO HONOUR SECURITY DEALS, US SAYS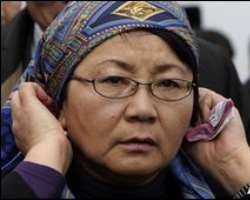 The US says Kyrgyzstan's interim leader has promised to honour key security agreements, days after she came to power following a bloody uprising.
US officials said Roza Otunbayeva had vowed not to interrupt operations from a military base the US uses to supply troops and supplies to Afghanistan.
The US stopped troop movements from the base, near the capital Bishkek, last week during an anti-government revolt.
Protesters overthrew the president last week but dozens died in the uprising.
Weeks of discontent
The base, in Manas, is leased from the Krygyz government, but opposition leaders had hinted before they came to power that the current lease could be shortened.
Thousands of coalition troops pass through the base each month on their way to Afghanistan.
Russia also has an airbase in Kyrgyzstan, and the presence of both has been the focus of debate in recent months.
US state department official Philip Crowley said Ms Otunbayeva had spoke to Secretary of State Hillary Clinton over the telephone to reassure her.
"Ms Otunbayeva confirmed that the Kyrgyz administration will honour previous agreements regarding the Manas transit centre," he said.
Ms Otunbayeva, a former foreign minister, earlier told the BBC's Kyrgyz service that her interim government would keep to its international commitments.
"We'll work in the same regime, the same manner which the work has been done," she said.
The violence was the culmination of weeks of discontent over rising prices and allegations of corruption in Kyrgyzstan.
Clashes in Bishkek and other towns left at least 78 dead and more than 1,600 injured.
Ousted President Kurmanbek Bakiyev is believed to be in hiding in the south of the country.