Buhari, Obiano, Ekwueme ,Gowon, Danjuma , Obasanjo Honours late Chinyere Asika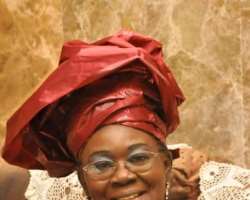 It was two days of tributes in honor of the demised First Lady of East Central State, Dibueze Chinyere Asika at Abuja and Enugu respectively as President Buhari, Governor Obiano, Yakubu Gowon, Theophilus Danjuma, Alex Ekwueme and other Igbo and Nigerian leaders pay tributes to a true Igbo lady who also believed in Nigeria.
Chinyere Asika was the wife of Ukpabi Asika, former Sole Administrator of East Central State from 1967-1975, who died in 2004. She is also the elder sister to Chief Mrs Kema Chikwe, former Minister of Aviation.
Zodiac Hotels, Enugu was the venue of 'Igbo Day of Tributes' held in her honor on Monday. The Chairman of the Occasion and close friend of deceased family, Senator Uche Offia Nwali in his keynote address described Chinyere Asika as a woman who used her influence to better the lives of those around her, and came to the service of her people at the crucial stages after the civil war.
Governor Willie Obiano, represented by Primus Odili, Special Assistant on Special Duties asked the audience to emulate the good in Chinyere Asika which borders on service to the people. Governor Obiano asked Igbo leaders to use the occasion to close ranks so that the South East can move forward astronomically.
The Director General of Igbo Mandate Congress (IMC), Rev Obinna Akukwe in his address described Chinyere Asika as a humanist. She asked Igbo leaders to stop fencing themselves off from the masses only to resurface during electioneering period, asking them to emulate the deceased who treated everyone as equal, despite privileged background.
The Assistant National Publicity Secretary of Ohanaeze Ndigbo and Chairman Igbo-Ohanaeze Integrity Groups, Barrister Emejulu Okpalaukwu, described Chinyere Asika and the Asika family as a misunderstood people whose contributions to the progress of the Igbo Race through 'Out Olu Obodo' helped Igbos recover from the effects of the war.
President of Ohanaeze Youth Council, Chief Okey Isiguzoro described Chinyere Asika as a woman who helped numerous persons and groups find their feet and called on Igbo leaders to exhibit the selfless disposition of the deceased.
Dignitaries at the event took turns to extol the philanthropy associated with Chinyere Asika . Nollywood Actors whom she helped to the top were around in Enugu to pay tributes and dancing troupes also spiced up the occasion.
Earlier at the International Conference Centre, Abuja on Wednesday, eminent Nigerians also gathered for a service of songs in her honor. Speaking at the occasion, President Muhammadu Buhari, represented by Senator Chris Ngige described Chinyere Asika as 'a believer in one Nigeria who stood for unity"
Former President Olusegun Obasanjo, represented by his wife Bola, described Chinyere Asika as a great woman and "a dutiful wife who remained a pillar of support to her husband from the good days till moments of illness."
Dr Ahmed Joda, Super Permanent Secretary and Chairman of President Buhari's Transition Committee said that Chinyere and her husband mad a perfect couple, always together, always cherishing each other and praised how she took care of her husband when stroke came calling. He added that "The man took the worst job Nigeria has had to offer at the timer".
Former Head of State Yakubu Gowon, who actually appointed Ukpabi Asika the Sole Administrator of East Central State in 1967 said that "he never believed that anybody will take up the job of Sole Administrator at that time" and praised the sacrifices Ukpabi Asika made for his people and Nigeria and the support she gave her husband in times of difficulties.
Former Vice President of Nigeria, Dr Alex Ekwueme explained how Ukpabi and Chinyere Asika mobilized support for him during his campaign for the Vice Presidency and felt privileged to speak in good words at the important occasion.
Other dignitaries at the occasion include General Theophilus Danjuma, Professor ABC Nwosu,, Dr Mrs Oby Ezkwesili, Senator Uche Ekwunife among others took turns to Chinyere Asika is survived by Obi Asika (former Senior Special Assistant to President Jonathan on Social Media) and three daughters.
Disclaimer:

"The views/contents expressed in this article are the sole responsibility of the author(s) and do not necessarily reflect those of The Nigerian Voice. The Nigerian Voice will not be responsible or liable for any inaccurate or incorrect statements contained in this article."
Articles by Obinna Akukwe