Muslims Eid El-fitr Celebrations: Emerhor Congratulates Sultan Abubakar, Urges Christians, Muslims To Promote Peace And Unity In Nigeria.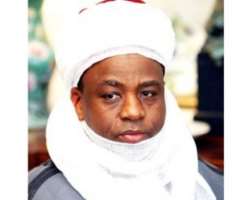 A Chieftain of the All Progressives Congress (APC) and Governorship candidate in the April 11 elections in Delta State, Olorogun O'tega Emerhor has passionately appealed to Muslims and Christians in Nigeria to respect each other's religion and not insult someone beliefs in the name of freedom of speech so as to avoid spread of hate.
Emerhor in a statement by his Media and Political communication Adviser, Dr. Fred Latimore Oghenesivbe said Muslims and Christians are created by God/Allah with divine primary assignment to be agents of peace.
He said the two pillars of Islam; The Holly Quran and the Sunnah promotes love, peace, tolerance, freedom of belief and mutual understanding, adding that act of terrorism and killing of innocent people is strongly condemned in Quran: Surah Al-Inaam, Verse 151.
He further posited that Hadith books are full of examples of Prophet Muhammed (peace be upon him) where he has shown love and affection even to the perfect strangers, non-believers and enemies of Islam and in the same token Jesus Christ preached Love, peace and tolerance, which is why freedom of belief and mutual understanding remains the only remedy to cure acts of terrorism, and promote global peaceful coexistence to secure a progressive future.
Emerhor in his Eid El-Fitr message congratulated the Sultan of Sokoto and President-General of the Nigerian National Supreme Council for Islamic Affairs (NSCIA), His Royal Eminence, Anirul Munineen Sultan Muhammadu Sa'ad Abubakar IV and Muslims all over the world on this auspicious occasion.
He described the Sultan as a royal father with vast knowledge, wisdom and great virtue and urged Muslims in Nigeria to emulate his detribalized and patriotic qualities so as to take Nigeria to the next level of socio-economic development.
He assured that President Muhammadu Buhari, GCFR will do everything and anything within his powers to put an end to Boko Haram insurgency, effectively and efficiently manage the human, material and financial resources of our nation to bring about positive socio-economic transformation that will restore the prestige and leadership role of Nigeria in the continent of Africa and in the global community.
Oghenesivbe quoted Emerhor as saying that President Buhari needs the support of all Nigerians more than ever before to enable him cleanse the system and establish structures that will serve as pillars of national development, adding that the fight against corruption and blocking of financial leakages are crucial to good governance which is why Mr. President requires sufficient time to balance all equation for the benefit of Nigerians.