Ikpeazu Congratulates Abia Muslims On Eid-Ul-fitr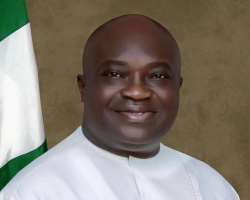 As Muslim faithful all over the country celebrate the eid-el-fitr which marks the end of the Ramadan, the Abia State governor, Dr. Okezie Ikpeazu has congratulated the Abia Muslim community for observing a successful month-long prayer and fasting and wished them a peaceful and joyous celebration.
In a goodwill message to the Muslim faithful, signed by the Chief Press Secretary, Mr. Godwin Adindu, Governor Ikpeazu expressed his love and that of the government of Abia State towards the Muslim brethren and enjoined them to use the occasion of the el-del-fitr to preach and promote peace and harmony in the state and in the country.
Governor Ikpeazu also commended the Abia Muslim community for having been a partner in progress with government in the effort to uphold the peace and unity of the country, adding that the muslims in the state are good patriots and ambassadors of not only the state but Nigeria in general.
The governor said he was happy that the Muslims in Abia are the authentic followers of the true teachings of Allah and the precepts of the Prophet, saying that they have demonstrated this in their life of tolerance and spirit of community which have contributed to the general atmosphere of law and order in the state.
Describing Islam as a great world religion with the main tenet of love, peace and charity, Ikpeazu enjoined Muslims all over the world to extend the spiritual benefits of the Ramadan in ensuring a world of peaceful co-existence and a world free of violence.
He said Muslims must use the occasion of the Ramadan to demonstrate that the world is united by our common humanity.
Signed:
Godwin Adindu
Chief Press Secretary to the Governor.