United States Condemns Al Shabaab Attacks in Mogadishu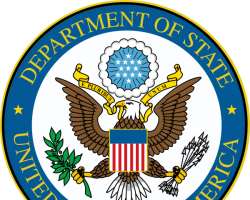 WASHINGTON, July 13, 2015/African Press Organization (APO)/ -- Press Statement
John Kirby
Department Spokesperson
Washington, DC
July 12, 2015
The United States strongly condemns al-Shabaab's terrorist attacks against the Siyad Hotel, Weheliye Hotel, and an African Union Mission to Somalia (AMISOM) position in Mogadishu, yesterday.
We extend our deepest condolences to the families and loved ones of the soldiers, government officials, and civilians killed in the attack, and our regrets to the many who were injured.
The United States praises the Somali and AMISOM forces for their response to this attack, which was conducted just as residents were breaking their Ramadan fast.
Through these murders, al-Shabaab once again has demonstrated its brutality and its complete rejection of a Somali society free of violence and oppression. The United States remains committed to working with the Somali people, their government, and international partners to continue forward in progress, prosperity and stability.