Nigeria sect violence victims 'mostly children'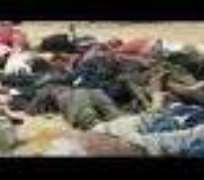 The Red Cross in Nigeria says many of those who were killed in clashes on Monday between troops and members of an Islamist sect in Bauchi were children.
Adamu Abubakar, its representative in the northern state, told the BBC 39 people had died - some 60% of them students aged between nine and 15.
Local officials said if any children had died, it would have been because they were hit by vehicles or trampled.
Twenty members of the Kala Kato sect had been arrested, Mr Abubakar said.
The fighting started when locals called in the authorities after members of the sect broke a ban on open-air preaching, which was introduced after an uprising earlier this year by the Boko Haram sect.
Hundreds died in the subsequent fighting across northern Nigeria.
Mr Abubakar told the BBC's Focus on Africa programme the death toll from Monday's violence was 39. Sixteen people were also admitted to hospital, among them a seven-year-old who died on Tuesday morning, he added.
He said some of the victims had been shot, but most had been attacked with machetes and knives.
The Red Cross representative said the crisis "was the result of preaching" at an open-air gathering, after which members of the Kala Kato sect threatened to kill locals who would not join them or leave the area.
An army officer who was sent from a nearby base to speak to the sect's leaders was killed with a machete, he added.
Mr Abubakar said most of the dead were children from outside Bauchi who had been sent to study Arabic and the Koran with local clerics.
But a spokesman for the government of Bauchi, Alhaji Sanusi Mohammed, told the BBC that 32 people had died in the violence, and that most of the people killed were adult members of the sect who had attacked the security forces.
"Most likely, those children that might have been killed were probably crushed when running away from the scene, or they were victims of head-on collisions with cars," he said.
"But I definitely don't think it was security officers that went to quell the rioting who shot them down."
It was impossible that the troops had used machetes, he added.
Mr Mohammed said the clashes had been a result of a "misunderstanding within the religious sect" about its leadership, and that it had quickly escalated.
Correspondents say Kala Kato is a non-conformist sect made up of poor tradesmen, labourers and other working people.