Rivers PDP Chairman, Felix Obuah Applauds Dissolution Of LG Council Chairmen
… Commends Court For Upholding Rule Of Law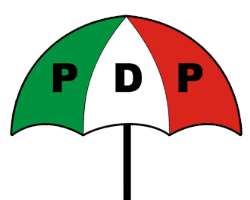 The chairman of the Rivers State chapter of the Peoples Democratic Party, PDP, Bro Felix Obuah says the nullification of the illegal Local Government Council election in the State by the Federal High Court sitting in Port Harcourt is a welcome development.
The PDP chairman said by this impartial judgement, the Court has once more strengthened the confidence and trust of the people in the Nigerian judiciary as the last hope of the common man.
Reacting to the double court victory recorded by the striking out of the All Progressives Congress, APC's application of withdrawal by Honourable Justice Bello Quadri in one of the suits and the dissolution of the illegal Council Chairmen and Councilors by Honourable Justice Lambo Akanbi, all of the Federal High Court, Port Harcourt through a statement issued on his behalf by his Special Adviser on Media, Jerry Needam, the PDP State Chairman thanked the leadership and members of the party for their calm disposition while the litigation lasted despite all acts of intimidation and brigandage by the APC to provoke them.
Thanking God for vindicating the party's position that there was no council election in the State, Bro Obuah noted that the court victory is not only for the PDP but also the entire Rivers people who are the beneficiaries of the sanity and rules of law that have been ushered in by the council election nullification
He however appealed for calm and co-operation from all, saying that the Nyesom Wike led-government is humane and capable of instituting a legacy that will serve the general good of all Rivers people being the Governor of Rivers State and not Governor of PDP.
Bro Obuah also wishes to congratulate the PDP leadership, all the members and supporters of the party across the 23 Local Government Areas for their patience, support and prayers throughout the trying period, stressing that the PDP will pay them back by being considerate, magnanimous and God-fearing in victory.
Signed:
Jerry Needam
Special Adviser on Media to
State PDP Chairman, Bro. Felix Obuah
Thursday, July 9, 2015