Alleged N15bn fraud: EFCC docks Nyako, son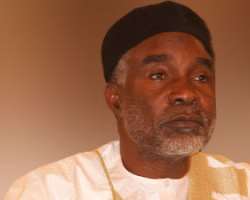 The Economic and Financial Crimes Commission, EFCC, has dragged the former Governor of Adamawa State,Admiral Murtala Nyako‎ before the Federal High Court in Abuja for arraignment over his alleged complicity in money laundering.
Nyako who was marshaled into the court room at exactly 1:05pm by operatives of the anti-graft agency, is presently taking his plea before trial Justice Evoh Chukwu.
‎The erstwhile governor was brought to court in a white coaster bus with an Abuja registration number, BR 739 BWR, alongside his son, Abdul Azizi, and two other accused persons.
Nyako was alleged to have ‎siphoned over N15billion from the Adamawa State treasury while he held sway as its governor.
The companies he allegedly used to loot the funds were equally joined as accused persons in the charge.
‎EFCC had previously declared Nyako and his son, Abdul Azizi wanted following their alleged refusal to honour many invitations from the commission.
Subsequently, his son was arrested in Gombe state on February 14 by EFCC operatives.
EFCC insisted that the ex-governor who was impeached from office on July 15, 2014, by the Adamawa State House of Assembly ‎over alleged gross misconduct, used his son and other top officials of the state government to loot public funds.
More details to follow