Road Contracts Scam: Police Special Fraud Unit May Move Against Fayemi's Men, Others Next Week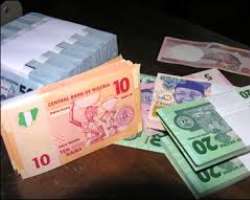 Barring any last minutes change of mind, some of those who served in the government of Dr Kayode Fayemi as well as Permanent Secretaries and top civil servants in the Ekiti State Civil Service will be quests of the Nigeria Police Special Fraud Unit (SFU), Lagos in the next few days.
A highly placed security source disclosed that the SFU commenced investigation of an alleged multi-billion naira road contracts scam, involving Fayemi's Commissioner for Works, Mr Sola Adebayo, Chief of Staff, Yemi Adaramodu and some top officials of the Ministry early 2014.
It was gathered that the investigation was sequel to a petition written by a group; The Ekiti Highlandres, dated July 3, 2013 and signed by Chief Akerele Samuel and Mr. Faparusi Segun, National Coordinator and Secretary of the group respectively.
The source said that the Police anti-corruption unit stayed action on the investigation on the order of the Inspector General of Police (IGP), who opined that arresting officials of the Fayemi-led government then could be termed as witch-hunting and a plot to weaken the All Progressives Congress (APC) chances in the June 21, 2014 governorship election, which was eventually won by Governor Ayodel Fayose of the Peoples Democratic Party (PDP).
In the petition written to the Inspector General of Police, The Ekiti Highlandres attached all road projects executed by the Fayemi administration, the length, the contractors name, date awarded, contractor sum, percentage of contract execution, among other relevant information.
It was alleged that the contracts for roads rehabilitation, involving cutting of failed portion, filling with laterite and stone base and asphalt overlay, with no construction of subsoil drainages, new pipe culverts and box culverts were awarded at highly inflated cost, with some of the roads costing as high N50 million per kilometre.
Some of the contracts listed were rehabilitation of 10.7km Ado-Afao awarded to Kallen Tech Nig. Ltd at N538, 638,704.26, construction of 19km Ikere-Igbara Odo road awarded tp Palmyra Construction Company Limited at N494,815,781, rehabilitation of 3.6km Ijigbo-Baptist College (Ilawe road) awarded at N788,038,599.60 and rehabilitation of less than 3km Fajuyi-University Teaching Hospital Road awarded at N447,544,063.50
Others were rehabilitation of 13km Old Garrage-Ado-Ikere road awarded to Plycon Nig Ltd at N2, 369,833,077.15, construction of 0.8km Old Garrage-Ojumose (Ado-Ekiti) road awarded to Heartland Nig. Ltd at N866, 872,873.13 and rehabilitation of Ojumose-Basiri/Police Hq (Iyin road) also awarded to Heartland Nig. Ltd at N1,488,054,374.92.
Sources revealed that Kallen Tech Nig. Ltd which got the N538, 638,704.26 contract to rehabilitate Ado-Afao road fronted for a notable leader of the All Progressives Congress (APC) based in Lagos while one of the companies that got the contracts fronted for Fayemi's Chief of Staff.
"All necessary preliminary investigations have been done and the revelations are indeed shocking!
"Records of movement of funds in and out of the bank accounts of the affected contractors have been secured and politicians, who the contractors fronted for are already known," the source revealed.
Apart from alleged inflation of the contracts and payment for non-existing projects, the petition also alleged that the road contracts were awarded without following due process.
"There were supposed to be an advertisement placed in at least two national newspapers requesting for Expression Of Interest (EOI) from eligible bidders. This was not done. If done, such newspaper should be produced," the petition stated.
According to a report in the Nigerian Tribune, Special Assistant to the State governor on Public Communications and New Media, Lere Olayinka, when contacted said "even though Governor Fayose has made it clear that he was not going to waste his time and the State resources, probing Fayemi's government, the governor won't stop anti-graft agencies from doing their job.
He said the government was aware of several complaints of financial malpractices made to the Economic and Financial Crimes Commission (EFCC), the Independent Corrupt Practices and other related offences Commission (ICPC) and the Police against the immediate government of Dr Fayemi by concerned citizens of Ekiti State."