Boko Haram's Toll And Buhari's Era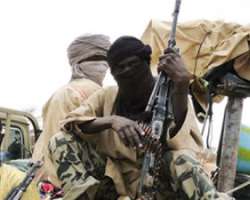 A senior editorial staff of one of the nation's mainstream print media wanted to know my reaction to the unfolding counter terrorism war style of the current administration of Muhammadu Buhari a retired Major General of the Nigeria Army. This correspondent who covers the defence beat for the newspaper in question was critical about the fact that although the now ruling party- All Progressives Congress was critical about the style of counter terrorism war waged by its predecessor but that this same new government has adopted the same steps as the immediate past administration.
He reminded me that President Buhari has already visited Chad and Niger and also hosted a meeting of the ECOWAS joint multinational military force against Boko Haram in Abuja which was attended by the political and military leaders of Nigeria's three neighbors. Already critical stakeholders have asked that the current government adopts home made strategies and rely less on partnership of our next door neighbours.
Well, my considered response was to tell him that the Presidential election campaign period is diametrically different from real politics of taking charge and getting insider's knowledge and information from the real bureaucrats that managed the last counter terror war of former President Goodluck Jonathan. I also said that during the campaign period the then opposition political party was desperately pleading with the electorate to distrust the then incumbent government and to place their collective hopes and aspiration as regards waging a determined and quick win anti terror campaign on them (the political opposition party during the Presidential campaign).
What played out shortly before the general election was that majority of Nigerians were sick and tired of always waking up to the sad and pathetic news of killings in massive scales of innocent Nigerians by the armed Islamists -Boko Haram and so were ready and determined to transfer their confidence and trust on the opposition politicians then to take over from President Jonathan and then put in place efficient and effective counter terror war. But since coming to power the waves of mass killings of civilians by Boko Haram has increased in ferocity and viciousness even as within a space of 30 days nearly 600 innocent Nigerians have been killed by these terrorists and people are beginning to express consternation that the current administration has taken too much time talking about how to wage the counter terrorism war but spent few periods actually implementing and enforcing these range of counter terrorism strategies so as to efficiently degrade the capacity of these mass murderers known as Boko Haram from their continuous evil harvests of genocidal mass killings and destruction of towns and villages which they hitherto captured but which just before the inauguration of the current government the last administration achieved total liberation of all the territories in Borno, Adamawa and Yobe states from these armed terrorists who are purely Islamic extremist group bent on destroying Nigeria as it is now and seeking actively to establish their brand of extremely violent and primitive Islamic Republic similar to what ISIL has tried to achieve with some limited success in Syria and Iraq.
To most Nigerians they pray fervently that the machinery of governance is activated vigorously to restart a very formidable counter terrorism war. Nigerians are tired of hearing worn out excuses from the Federal government whilst the terrorists wreck havoc across Northern Nigeria. Nigerians want this government that rode on the back of some popular acclaim as being spearheaded by a strong man to kickstart without further delay counter terror strategies that would surpass what we are already used to so these teenage girls being brainwashed and indoctrinated by Boko Haram commanders and being deployed on suicide missions are rescued and deradicalised.
Nigerians want President Buhari to pick his cabinet now so he can have a war cabinet within the larger Federal cabinet to coordinate together with the office of national security adviser a fool-proof counter terror strategies to bring to the barest minimum the current spate of Boko haram killings. Even some friendly media of this government are also concerned about the high casualty figures from the terrorist attacks.
One of such reports stated that no fewer than 400 Nigerians, including children have been killed by Boko Haram since 29th May when President Muhammadu Buhari succeeded former President Goodluck Jonathan, on a sacred pledge of wiping out the insurgency, that has claimed about 15,000 lives. Already Boko Haram is now rated as the global worst killers even higher in toll than the terrorists currently bombarding Syria and Iraq.
On the unpardonably high casualty rate since May 29th the local report further stated that the tally of killings included the recent massacre in three villages of at least 150 Nigerian Muslims praying in mosques before breaking their Ramadan fast.
Boko Haram also stepped up their murderous attacks with two separate attacks in a Church in Yobe, a Mosque in Kano and at the Local government headquarters of Sabongari Zaria in Kaduna State just as nearly one hundred persons died from these bloody violence and the twin attacks at a Jos Plateau State Mosque and a popular restaurant frequently patronised by students of University of Jos. The militants reportedly mowed down men and children in the three remote villages in the north-eastern Borno state this week – and shot women preparing food at home, according to witnesses, whose accounts were reported by the media. Even the United States government that failed to sell weapons to the last Nigerian government to combat these terrorists is showing displeasure at the high casualties being recorded from these Boko Haram violence in the last 30 days.
The report sounded so pathetic thus; "They slaughtered residents and set houses ablaze in the group's bloodiest day of attacks since President Muhammadu Buhari came to power five weeks ago".
Gunmen reportedly killed at least 97 people in Kukawa, the worst-affected village, according to a local called 'Kolo' who said he had counted the bodies. A fisherman who saw the attack corroborated the figure, the news report disclosed.
Kolo said: 'They wiped out the immediate family of my uncle… They killed his children, about five of them, and set his entire house ablaze.'
Another witness in Kukawa, Babami Alhaji Kolo, who fled to the state capital Maiduguri, said more than 50 militants had stormed the village.
'The terrorists first descended on Muslim worshippers in various mosques who were observing the Maghrib prayer shortly after breaking their fast,' he said.
'They (Boko Haram ) opened fire on the worshippers who were mostly men and young children. They spared nobody.'
'In fact, while some of the terrorists waited and set most of the corpses on fire, others proceeded to houses and shot indiscriminately at women who were preparing food.'
These are pure war crimes by Boko Haram the same group that Amnesty International is championing the protection of their so-called human rights. Whilst Amnesty International turns up jaundiced reports malignant great counter terror warriors like Lt General Onyeabor Ihejirika and Air Marshall Alex Badeh the toll has continued to skyrocket from the murderous attacks of Boko Haram. Eye witnesses are recounting their traumatic experiences in the hands of these mass killers.
Some of the eye witnesses told the media further as follows:
'The terrorists first descended on Muslim worshippers in various mosques who were observing the Maghrib prayer shortly after breaking their fast,'.
In two other villages near the town of Monguno, the media reported that gunmen killed 48 people and injured 11 others, local politician Mohammed Tahir and witnesses who spoke with the media was credited as saying so. Narrating further the gruesome modus operandi of these terrorists this particular eye witness stated that:
"They selected particular male residents from among the crowd of worshippers… and opened fire on them before setting the two villages on fire and razing them to the ground".
Another resident who managed to escape said the militants arrived in vans and on motorbikes. This is the unique pattern of attacks that Boko Haram unleashes on the villagers and one keep wondering why till now the military especially the air wing of the counter terror fighters have yet to work out implementable and effective counter measures to stop these vicious attackers before they strike. How come that multitude of terrorists will ride on bikes and SUV'S to and fro and unleash devastating attacks successfully and only to be chased around after the damages have been done?
In one of the many recent attacjs in villagers these armed terrorists killed 48 people and injured several others but many of the villagers who came under this attack reportedly managed to escape amid volleys of bullets,' said the resident, who asked not to be named for safety reasons.
Kukawa is around 30 miles away from the two villages near Monguno. This particular town has the unique misfortune of being consistently bombed and decimated and the terrorists kept coming in their droves.
All three are located near Lake Chad, which straddles Nigeria, Niger, Chad and Cameroon and has been a focal point of the unrest, according to a narrative reported by a local Lagos based news magazine-The News Nigeria.com.ng .
If you ask me now is the time for this government to launch an all out war against these genocidal elements. Again there is nothing untoward if President Buhari borrows some effective elements of the counter terrorism war of the immediate past government. The last government adopted carrots and stick approach and succeeded in wining some hearts and minds from the hard core fundamentalists so this government can drink from the fountains of the counter terrorism wisdom and talents of the good Nigerians who worked in some committees that tried to bring about repentance and constructive dialogues as some of the ways of winning lasting peace in the troubled geopolitical region of the North East of Nigeria.
*Emmanuel Onwubiko is Head of Human rights Writers association of Nigeria and blogs @ www.huriwa.blogspot.com, www.rightsassociationngr.com, www.huriwa.org.
Disclaimer:

"The views/contents expressed in this article are the sole responsibility of the author(s) and do not necessarily reflect those of The Nigerian Voice. The Nigerian Voice will not be responsible or liable for any inaccurate or incorrect statements contained in this article."
Articles by Emmanuel Onwubiko