Re: The Blame Game: Okonjo-Iweala Guilty As Charged By Oshiomole?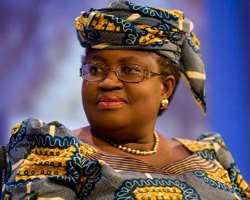 Frankly, this write up is pure balderdash! Surprised that the writer even had an education comparable to Joe Attueyi's. However, Joe's CV also shows how well he has put that education to work and useful purpose, much like Dr Mrs Okonjo Iweala who by any standard is way beyond Mr Ishiekwene, who tries to belittle her pedigree, achievement and capacity in this piece.
Who does not know that the various tiers of government have been sharing ECA for a long time now? Who does not know that sharing ECA has been a regular source of banter between Governors and the Federal Govt even before GEJ came into power?
When there was a boom, more money was shared to states and many states were pretty wasteful in the manner with which they utilized funds with many of them suddenly buying private jets with which they used to fly around the country socializing with new political friends rather than settling to the business of governing their states.
Take Rivers State for example. More than N20bn was pumped into a botched monorail project with no value to society. About $39.2bn was wasted on a proposed mega hospital project that never got off the ground more than 6 years after. Failed PPP projects where the Rivers State Government wasted tens of billions today litter every part of Rivers State.
More and more economic and financial misadventures continue to be unearth with each passing day.
People like Ishiekwene were among those who screamed blue murder and encouraged #OccupyLagos when GEJ's govt attempted to totally remove Petroluem subsidy yet today he mentions subsidy fraud and tries to tie Okonjo-Iweala with that fraud.
He forgets or is being just ignorant about the many battles that Okonjo-Iweala fought with oil marketers especially after the subsidy protests in Jan 2012 until she left government a few months back.
She did her best for this country. She helped build a systematic fight against corruption. She helped us save money even when the governors wanted to shred up the ECA and completely deplete it. She ensured that subsidy payments were made only after intensive verification processes had been conducted. That slowed down payments and angered many marketers but she kept pushing.
Be rest assured that she will come out victorious in the new spat with Oshiomole.
So many times, it is the dullards who are quick to call others clueless or dumb.
Regards
GK
Disclaimer:

"The views/contents expressed in this article are the sole responsibility of the author(s) and do not necessarily reflect those of The Nigerian Voice. The Nigerian Voice will not be responsible or liable for any inaccurate or incorrect statements contained in this article."