What is Haram In An Igbo Muslim?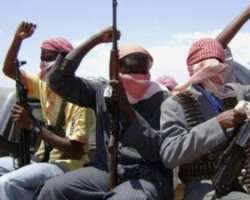 We will not tolerate injustice, political harassment of any Nigerian, President Muhammad Buhari warns compatriots
I want to passionately appeal to my readers to pause and think and then sincerely answer these simple questions: What is Haram in an Igbo man being a Muslim? Why are Igbo Muslims abhorred in Nigeria? Who are the opposition to the Igbo Muslim existence? Do Nigerians – Christians, Muslims, Pagans, others – believe in the existence of Igbo Muslim in the first place?
I ask these questions with a heart full of sorrow and sympathy that a people who have chosen to worship God in a way that is internationally recognized have be no people in their own father land. How long will this kind of injustice meted upon a people remain in the face of global freedom of worship and association? I wish my readers would check records.
Why is it that the political alienation of Igbo Muslims and calculated injustice against Igbo Muslims have never generated a national discourse? When a member of the National conference raised the issue on the floor of the conference, he was nearly shouted down and I doubt if that view specifically made any phrase in the recommendations of the conference.
Do the governors of Abia state, Anambra state, Ebonyi state, Enugu state and Imo state know that they have Igbos who are Muslims in their respective states? Do they (the governors) recognize the Muslims from the Igbo race in their respective domains? Now that the 2015 general elections are over and the governors have been sworn in, can Dr. Okezie Ikeazu of Abia state, Governor Willie Obiano of Anambra state, Engr. Dave Umahi of Ebonyi state, Governor Ifeanyi Ugwuanyi of Enugu state and Governor Owelle Rochas Okorocha of Imo state testify that there were no Igbo Muslims who fought with other politicians for their victory? What is really the crime that an Igbo Muslim has committed?
Come further: do big politicians like Dr. Ogbonnia Onu, Senator Chris Ngige, amongst others know the existence of their kinsmen who are Muslims? What did the past governors of these Igbo state nation do for the Igbo Muslims? What has any Muslim from the Igbo race benefited politically from their governments? And I ask again: What is really the crime that an Igbo Muslim has committed? If I can remember very well, I think there is a board called Muslim Pilgrims Welfare Board. That is where the Igbo Muslims, Hausa Muslims and Yoruba Muslims in Abia, Anambra, Ebonyi, Enugu and Imo states are pushed to fight over its leadership after every political dispensation.
Alas! Come further: can any Nigerian patriot remember an Igbo Muslim who has been appointed as a cleaner in Aso Rock Villa by any Nigerian President? Can the Federal Character Commission and the Federal Civil Service Commission go through their records to recall how many Igbo Muslims they can find in the service? Nay, is it possible that an Igbo Muslim has been appointed a Minister of the federal cabinet, a chairman of a board, a director general of an agency or parastatal in the past? Maybe the Igbo Muslims are so unread, uncivilized, non-political and thus unqualified. Maybe it is not injustice in Nigeria's lexicon of definition.
In a recent article entitled: "The burden of justice in Nigeria's governance", I made frantic effort to establish the fact that the absence of justice in Nigeria's governance has caused Nigeria its pains and pangs. "Justice is an abstraction that is needed to move any gathering of people of diverse interests forward… Theopposite of justice is injustice which is caused by ignorance, fear, want and meanness", I had argued.
In my published memo to Nigerian National Dialogue Conference, I soliloquized: "Coming from the most neglected, dejected, suppressed, denied, relegated, mocked, downtrodden and unwanted minorities of the Nigerian nation, I should have been convinced by a reluctant conscience that this effort of writing a memo to a Nigerian National Dialogue Conference (NNDC) would be a trash. Maybe, as irrelevant as I and my people have been unpatriotically, surreptitiously or overtly regarded by other components of Nigeria, this will end up being a garbage, however heavy, in the assembly of people who do not recognize minorities and do not care or fear about the patience of the oppressed.
Well, it is said that a single written idea is better that many unwritten books. Again, it is better to declare a conviction than to die with a simplest idea that can effect a change however long. Most sincere Nigerians, like most great revivalists and revolutionists, struggle for a change that will outlive them. This is because for over a hundred years of the creation of Nigeria, (54 years now) of which Nigeria has remained a so-called independent nation, many solutions have been proffered by many Nigerian individuals and groups on how to place the nation among the comity of united, stabilized and developed nations. "Never a pessimist! Why should I be, especially coming from the unheard, unnoticed and rather unwanted minority in Nigeria. It is unarguable that any Nigerian president since 1914, especially from 1960 has ever remembered that there is an Igbo Muslim, not to talk of recognition. From Nnamdi Azikiwe to General Aguiyi Ironsi to General Murtala Muhammad to Alhaji Shehu Shagari to Dr. Goodluck Jonathan, it has been injustice and denial of the Igbo Muslim. General Yakubu Gowon, then the Head of State, recognized a minority leader of Igbo extraction, Sheikh Ibrahim Nwagui. That's just all that could be remembered.
I have never seen a people so neglected. I have never seen a people so plotted against. I have never seen a people whose heavy crosses are totally left to them to carry by themselves in a nation – Nigeria – where God created them like other Nigerians. And I have not seen a people whose cries are hardly heard by even their brethren in faith and fraternity.
The European Union tasked our President on dividends of democracy. The EU Ambassador to Nigeria and the Ecenomic Community of West African States (ECOWAS), Mr. Michel Arrion, at the Europe Day 2015 in Abuja averred that democracy meant nothing to the common man except it led to the improvement in their standards of living. Arrion called for galvanization of Nigeria's massive population, assurance of the basic freedoms of the citizens, restoration of peace and stability, eradication of corruption and regional integration. "We are happy that Nigeria has got it right, and look forward to other African countries following its good example," he said.
Throughout the democratic eras in Nigeria, no cabinet formation has favoured Igbo Muslims. I do not want to talk about the favours showered on the Christians minority of the North by the tough and persistent push from their majority of the South. Every conscious citizen can attest to this fact. One can confirm and compare. The ratio is 100:0. The missing names in every cabinet formation and reshuffle are the Igbo Muslims. I remember my candid appeal to immediate past President: "If their state governors can never nominate them for such federal assignments, Mr. President should prove his detribalized disposition and love for all Christians and Muslims who can selflessly deliver dividends of democracy, irrespective of religious and regional backgrounds. The Muslim political bigwigs should not be so snug that Igbo Muslims are so neglected politically, economically and socially".
However, if there is going to be a relief, it can only come under a fearless and just leader who believes in justice, fairness and equity. President Muhammadu Buhari recently assured that his administration will ensure fairness and justice. His Special Adviser on Media and Publicity, Mr. Femi Adesina said while addressing State Chairmen of the All Progressives Congress (APC) at a parley in the Presidential Villa, Abuja that President Buhari is fully committed to providing a level playing field for all Nigerians to get on with their daily lives or participate in electing their leaders without fear of intimidation. The President, Adesina said is resolute to curb the reign of injustice and impunity in the country. "This administration would continuously strengthen Nigeria's criminal justice system. At every point, the law must be supreme and everyone must respect the law, if our democratic system is to survive"
Mr. President gave the assurance that injustice cannot survive for long because justice will ultimately prevail. "The only way the nation can sustain its democracy is to ensure that the law remains supreme at all times. If the law is upheld, people will have confidence that they can vote for who they want to vote for without intimidation or threats. People must have protection to exercise their rights freely or we could be headed for anarchy".
"We won't allow impunity to continue in certain states, where the rights of the people are being violated. I have a personal commitment to fair play and respect of personal rights. This government will do all that is possible to enforce that. My address to National Executive Council of the APC was very clear. We are now in the frontline. We are the party in government. We must lead by good example and consolidate on the gains of our democratic system,'' President Buhari said.
Muhammad Ajah is a writer, author, advocate of humanity and good governance based in Abuja E-mail: [email protected]
Disclaimer:

"The views/contents expressed in this article are the sole responsibility of the author(s) and do not necessarily reflect those of The Nigerian Voice. The Nigerian Voice will not be responsible or liable for any inaccurate or incorrect statements contained in this article."
Articles by Muhammad Ajah