Celebrating An Icon Professor Attahiru Jega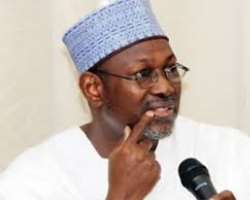 Professor Attahiru Jega the outgone Chairman of INEC is worth celebrating. Honestly I feel disappointed as I was expecting the media will be awash with stories celebrating this Icon who came and enthroned,relatively speaking, an electoral system that maximally ensured free and fair election. Some thing that has eluded us in our more than half a century of existence. Of course there is Prof Humphrey Nwosu who conducted the aborted June 12 1993 election adjudged the fairest and freest in the electoral history of Nigeria.
These are the character traits that endears me to Professor Jega.
1 innovative. His ability to introduce card readers and permanent voters cards which curtailed massive electoral rigging will be celebrated for decades to come. These innovations will go a long way in giving our electoral system credibility both nationally and internationally if it is sustained.
2 the introduction of well lettered personnel with high integrity as Returning officers enhanced competence and transparency in the electoral system. The out gone chairman looked for the services of vice chancellors from our ivory towers who have over time enthroned effective management system in the universities. Their rich resume worked magic in the 2015 general election. With the exception of the Returning officer of Rivers state presidential and governorship elections who demonstrated crass incompetence and the possibility of being compromised in the elections, the rest of the vice chancellors did quite well.
3 the man proved to the world that he is a workaholic. Through out the collation period, the man was spending close to 24 hours at collation centres and you could hardly see stress or tiredness on his face. If all Nigerians would take their assignments with such mental and physical commitment, we could have gone far in our development strides.
4 Jega was an inspirational leader and Nigeria needs such people in this critical period that we are facing leadership and other challenges. This inspirational leadership was capped with the way he handled Orubebe melodrama at the collation centre where he forcefully grabbed the microphone and made very damaging allegations on Jega's handling of the collation of results which to him and his cohorts was skewed towards producing a result that will pander to some sectional interest. The man never looked worried or threatened. He calmly responded to the jabs thrown at him by a well matured brief comment that made Orubebe looked stupid and that was the magic that restored sanity at the collation centre.
5 professor Attahiru Jega could be said to be a man that abhorred corruption being our second nature and our albatross. Well one has no records of the management of resources under him, but there has not been any major financial scandal in the commission that could be traced to his tenure and I'm sure if the outgone regime of GEJ had any, with his principled stand on issues that the regime considered inimical to their chances of winning the election, they could have exposed such shady deals. Although this could be highly hypothetical, I'm sure if the man wanted to play ball by compromising the electoral system, the desperate regime of GEJ could have offered him any amount. For now we take it that the man was incorruptible until in the course time, some incontrovertible evidences of his wrong doing are tendered in the public domain.
6 just like Sanusi Lamido Sanusi, T.Y Danjuma (who declined re-appointment as Minister of Defence), Obasanjo( who as military head of state voluntarily handed over power), the man was not infected with typical Africa disease- clinging to power for a long period. He said he was not going to spend more than one term and when it expired, he handed over the office. With his conduct of free and fair elections which made it possible for PMB to come to power and if he had wanted the present regime they could have renewed his tenure for another 5 years, but he didn't and he told everybody that he was going back to his first love- teaching considered an un lucrative profession in Nigerian malfunctioning state. This should be a lesson to all of us. That longevity in power is a disease that must be wiped out. We should therefore emulate Jega and others mentioned for the good of our country. The university community have embedded in their system that you can be a vice chancellor for only one term of 5 years. Why don't we as a nation borrow a leaf from the Ivory tower by amending our constitution for the president and governors to spend one term of 6 years to avoid the cost, the violence, the rigging that usually characterize the second term election in the country.
7 He was a team player as he carried along his management team in all the decision making process. Through out his tenure, one can't remember any major dissent or disagreement that transpired at the commission and because of this culture of consensus that became the hallmark of his administration, little wonder that he had a crisis free tenure.
It is in the light of this monumental achievements that we should give honour to this brave, courageous, principled, incorruptible, hardworking, visionary leader Attahiru Jega. He will be remembered in the annals of our electoral system as a man that enthroned credibility in the electoral system. On behalf of Nigerians that cherish good people, I wish him long life and a prosperous future. We shall continue to celebrate him by making reference to the excellent services he rendered so that those that are saddled with such responsibility in the future will be inspired by him.
This is a clarion call for all of us to imbibe the virtues in this man and we should also be celebrating ours that did well in the service of the fatherland. This will motivate others to do well. If Mandela is a legend, we also have our legends such as Gani Fawehimi, Humprey Nwosu, Prof Tam David West, Dr Festus Iyayi, Gen Murtala Mohammed, Dr Yusuf Bala Usman, kudirat Abiola, Prof Wole Soyinka and the latest icon in the political Lexicon of country Prof Attahiru Jega. I have not mentioned the founding fathers of our nation because they are being celebrated on regular basis
It is not enough to develop the culture of criticism we should also develop the culture of appreciating our people that did well no matter how little, a journey of a thousand mile begins with one step.
Disclaimer:

"The views/contents expressed in this article are the sole responsibility of the author(s) and do not necessarily reflect those of The Nigerian Voice. The Nigerian Voice will not be responsible or liable for any inaccurate or incorrect statements contained in this article."