Rivers State House of Assembly focused, era of kangaroo sitting over – Dede, Director of Press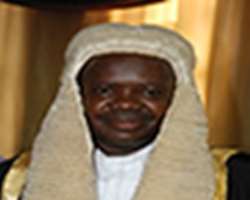 Encomiums have begun to pour on the current Rivers State House of Assembly so far described as "well-focused and compatible with the executive and judiciary". Described as with ability for quick dispensation of legislative functions that promote good governance, critics of the 8th Assembly have therefore, been qualified as nothing but clogs in the wheel of progress.
Director of Press of the Assembly, Mr. Tams Dede, who made the submission in an exclusive interview with our Correspondent in his office at the Assembly Complex, last Tuesday, praised the lawmakers for sticking to their legislative independence and seeing Rivers State first and above personal considerations.
"This 8th Assembly has so far shown nothing but desire to serve the State first and above their personal appetites. It is obvious that the era of kangaroo sitting is over. Rivers people have heaved a sigh of relief that those they have elected to make laws for their general wellbeing and of the state are just doing that right on the hallow chambers of the Assembly. Their transactions are as transparent as in any developed democracy anywhere in the world. Everything is done in the open and to the view of the public and the media".
Mr. Dede, who commended the Speaker, Rt.Hon. Ikuiyi Ibani-Owaji, for showing understanding of legislative duties, said that Rivers people have fallen in love with the conduct of the legislators. "Rivers people have fallen in love with the manner the lawmakers have conducted their sittings and debates so far. There is now a sense of belonging. The Executive, Legislature and Judiciary are working well and in compatibility".
While welcoming constructive criticism, Dede said armchair critics would only be chasing shadows as the lawmakers have resolved not to be deterred. The DPA declared that under the leadership of Hon. Ibani-Owaji, whom he said had studied the Assembly over his years as a member, there would be no banana peels. "Speaker Ibani-Owaji, a rated lawmaker, understands the internal workings of the state legislature. He knows how not to step on banana peels. He carries every member along, an attribute commendable in itself".
Mr. Dede noted that at the rate of legislative activity and thoroughness the 8th Assembly has adopted in its functions, Rivers people should expect legislations that will stand the stiffest test over time.
"Those who think that the House is too fast or not focused are people who don't have good intention for Rivers State Government and its people", the DPA added.