"I'm Musically Addicted," Says Singer Of Oluwa Sure Pass, Lizzy Lu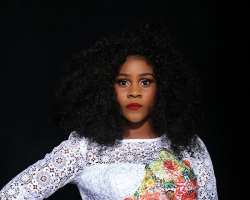 From Elizabeth Luwide's story, one could be objected for saying that when musicians sing as a result of their horrible situations are gone. Popularly known as LizzyLu, she is a native of Ogoni in Rivers state. In this irresistible appealing interview with Media Personality,Ugochukwu Favour-Mayor, she tells her story on how music changed her life for good, which basically inspired her hit-single, "Oluwa Sure Pass."
Excerpt:
What's your love for music?
I have a very deep love for music. I can't go on a day without singing; that's to tell you how much I love music. Sorry if I say, I'm musically addicted.
How and when did you start doing music professionally?
I have been singing since I was 12. I sang in churches, I used to be in the church and school choirs. Then some years later, I started doing backups for some artistes, which we all know today. But professionally, I started singing in the early 2014, and since then, it's been more interesting than when I used to do it in the past years.
What inspired your hit track "Oluwa Sure Pass"?
My story, my life and the situations I went through inspired the song. Though, I also tried to portray a little bit of it in the video of the song. Kindly check out the video on youtube or on any of blogs online, that's if you haven't seen it on TV. Although I had songs I wanted to drop which I already shot there videos, but God intervened miraculously in my situation and my story changed positively. So, I went to the studio to meet my wonderful producer, Reflex Soundz. I told him what I wanted then, and he sent me a beat later that day. I was in the toilet when the beat came into my phone (laughing). As I listened to the beat, immediately I composed the chorus, and then gradually prepared the verses. The next day, I voiced the song. After working and listening to the song over and over again, I said to myself that this is a nice way to begin the journey, and I believe it will also encourage other people going through similar challenges to believe in God and stay strong because soon their story will change positively just like mine changed when I least expected
How far have you gone with the promo and trends?
Pretty well! I have a wonderful team I'm working with. Although we are still promoting the song more in every way possible, because we want to be able to reach out to a lot of people with this song, most especially Africans all around the world. Its' a song that goes with endless blessings, thereby spreading the good news of letting everyone know that "Na Oluwa Sure Pass"
We are aware you have done some works with the likes of Sean Tizzle and the rest, please what packages are they?
Yes, I have worked with Sean Tizzle, Dtunes, Jay Sleek alongside other artistes. They are very wonderful people to work with. I'm sure anyone that works with them won't regret doing so, because they are very amazing and they know what they are doing.
How did you feel working with Sean Tizzle?
I felt good. He's a gentleman, and he used his experience and melodic voice to bless the song we did together. Watch out for my upcoming song, featuring Sean Tizzle. It's a great tune.
What motivates you?
God motivates me. I don't accept failure because I have the Almighty God as my creator and master. He makes you do things you never thought you could do. Even when everyone says you can't, God is always there to inspire and motivate you.
We are aware that you are into acting, also. What's your movie life like?
I must say that my acting career is entirely different from music. I enjoy acting. It's so challenging but very interesting. While doing films, I will say music takes a lot of my time the most, because that's basically what I'm known for.
In music, can you tell us what your future collaborations would be like?
It's going to be crazy. I want to work with a whole lot of people. Out of Africa I want to do a very nice song with Rihanna, and in Nigeria I want to work with Tiwa Savage, Wizkid, 2face, Yemi Alade, Davido, Skales, Zoro, Olamide. My list is so full and still counting though. We have a lot great musicians who can fit into my kind of song. In a nutshell, I want to work with people that are very good and creative.
What should we expect from you in the nearest future?
So much! As long as I keep singing, I won't stop producing good songs. Just stay tight and check out my work always. I promise not to disappoint. And thank God, I'm doing my best to be on top of the game. My fans and ardent followers should expect inspiring songs from me.
Who is your role model?
My role models are Rihanna and Tiwa Savage, when music is involved. I love them so much.
As a professional, how do you react to good music?
First of all, I believe in good lyrics. When I listen to a song, the first thing I check is the lyrics. Anybody can play any beat but the lyrics are the good things behind good music.
Also don't forget, if you have good music, you need listening fans. So, to all my fans, I love you so much. If not for you I won't be here. I'm very grateful. Please, do remember that your opinion counts just hit me up on facebook, twitter or instagram. I need your contributions to get it right.
I would also want to advice my fans. If you have the talent to sing, please try it out. Don't allow anyone to say you can't do it. Stay away from anything that would make you unhappy. Stay away from negative people.