ANY WOMAN WHO WANTS MY HUSBAND NOW WILL INHERIT LIABILITIES –ABIODUN OLUJIMI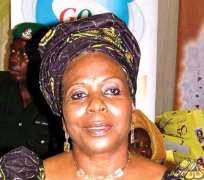 Before her current appointment as Commissioner for Works, Mrs. Abiodun Olujimi had functioned as Deputy Governor and Acting Governor of Ekiti State. She shares her family life and experience in government with ADA ONYEMA.
Since you took up appointment as Commissioner for Works in Ekiti State, nothing has been heard from you. What is happening?
Well, I have been lying low. There is a time to talk and time to work. This is the time to work. The portfolio I have is that of a man. If you are the commisioner for works and you are a woman, you have to put in four times the effort of a man because you have to prove yourself. Not being an engineer, destiny demands that I prove that I am a better manager, and that is what I have been doing.
Some people regard your decision to accept the appointment as demeaning. What do you think?
Let me say something. It is all about serving your people. It has nothing to do with pride or your person, because in the first place, being the Deputy Governor is an opportunity and it could be entrusted to anyone. I would like to remind you that I was in the Federal House of Representatives at the time. If I had been asked to contest, I probably would not have taken that position. I was offered the job because I was considered to be the best candidate for it. I don't think it is belittling to be called upon again to assume that position. It is all about service and being able to contribute to the development of the state.
Considering the cirumstances that led to your exit the first time, why did you return to Ekiti State?
Oh, no, I never left, because Ekiti is my home state. There is nowhere else to go. Even if I want to be the president of this country, the only place to start campaigning for the position is Ekiti. So I never left. The problems of our exit did not adversely affect anything, because it had to do with principle. I stood by the principle by which I was sworn in. So I don't feel any qualms going back.
But some people are of the opinion that you betrayed Fayose by going back to Ekiti
It means that the people you are talking about either have short memories or they are mischievous, or they don't know what happened, because the governor had left the state at the time without telling me. He left me there to handle the crisis alone. I didn't even know he had left. So it had nothing to do with betrayal. Rather, it had to do with holding the fort while he was away and I didn't know what was happening. I just wanted to keep the place going in his absence.
You mean you were running the state in the governor's absence without him asking you to do so?
Oh yes, because, you see, he didn't tell me that he was leaving. His exit came as a surprise to me. Yet I kept the place going. I don't think that is betrayal.
Don't you realise that it was your refusal to quit that led to the declaration of a state of emergency in the state?
There was nothing like refusing to quit. There was this imbroglio. There are three arms of government: the executive where I belonged as the deputy governor, I was acting for the governor, and then there was the legislative arm that was trying to usurp the duties of the executive. I said no to the Speaker of the State House of Assembly. I said to him, 'No, you cannot cross over and become the governor by impeaching me too, because the Constitution does not allow that.' I told him that if they were going to do it, they would be doing it outside the constitution. Then I felt I needed to stand my ground, and I did.
What is the difference between the two governments?
Yes, I have had the benefit of seving in both governments. I have witnessed a deliberate action to ensure that development gets to every nook and cranny of the state. I have seen a person who also loves Ekiti that he is willing to give all. I have seen a man who is not looking across his shoulders to see if anyone is coming to take him out. It is just a single minded effort of ensuring that there is even and rapid development in the state, and I cherish it.
As the Commissioner for Works, what legacy are you going to leave behind after your tenure?
Well, we are constructing roads and it is one of the cardinal points of the administration to connect everybody in the state by road so that movement of farm produce and development can be rapid. Without roads, nothing can happen. And we have problems with roads. Our terrain, in particular is bad because of the hills. If you don't have roads, you cannot develop as fast as you want. So, there is a deliberate effort to ensure that at least 1,000 kilometres of road are tarred before the end of this administration. So far, more than 380 roads have been commissioned and we are at the verge of commissioning about 200. So, we are moving towards that mark.
After serving as a commisioner, in what other capacity would you like to serve the state?
Well, I have a problem. I am a politician and I just wait for my turn. Let me say that God has been wonderful to me. All the things that I have aspired to be, I have not been able to achieve them. It is not because I have not been dogged or that I have not worked hard. It is the things that I have not asked for that God has given to me. So I am one of those who would gladly wait for what God will bring next.
Since you are back to Ekiti and your husband lives in Lagos, how do you reconcile your job with your responsibilities on the home front?
The man is used to it. Don't remind him about it. He has been a wonderful man.
Aren't you afraid of losing your husband to Lagos women?
It is too late. We have been married for more than 30 years. They will be inheriting liabilities and most women are not likely to accept liabilities.
After 30 years in marriage, you still look trim. What is the secret?
I just do everything as they come. But I am a person that is used to the Western style of dressing. My father brought me up that way. Until he died, he was always wearing jeans. He was uncomfortable with agbada. So I am a bit uncomfortable with Iro and Buba, even though I stay within them.
Do people take you serious when you don't dress that way?
We are changing the trend, because it is good for some events, but not for every day routine. It boxes you down and it doesn't give you that smart look that you desire. Being Commissioner for Works, I can't imagine myself dragging gele and iro and buba on a site while inspecting.
Many people think that you are very stubborn.
But I am an Ekiti woman.
How would you describe yourself?
Basically, I am an Ekiti woman; a very stobborn and easy going person. I don't show it except I am at home. My husband is my best friend and so it is easy to be stubborn there. We slug it out, but I have my own way of disagreeing with people. I tell you I'm not with you on this point and I switch off. Most of my friends know this.
What are other soft sides of you that people really don't know?
I am a tom-boy and I like to be surrounded by people. I love having friends, especially young ones, around me, because it is easy for me to transfer what I know to them and to help them become better people. I have lived a chequered life, full of events, especially my marital life. And it is good to share it with people.
Do you mind telling us more about your marital life?
I have children, step children who are, of course, my children. I have adopted children and I have grandchildren. Also I have my problems with child-bearing. I had to go to the hospital so many times before I could keep the ones I have. When you have experienced this, you will be able to tell people that it doesn't matter, life will be better.
Do you still cook for your husband?
Of course, I do. That is the only thing I know how to do, and I do it very well.
What do you think is the key to a successful marital life?
Being at peace with yourself. Marriage belongs to a woman. The woman must accept that she is the one getting married. If you go into it and tell yourself that you are not going to break it, come rain or shine, then your marriage will work. It is a woman that can make a marriage work in Nigeria. Our system is designed in such a way that the men are in charge and they own the home. Except you are able to come to terms with this fact and submit to it, you are not likely to have a healthy marriage. Also, if you know that if you can manage and weather the storm for 10 years, you will become the master of the home, then you have something to look forward to. After 10 years, men usually let go, because you have paid your dues and you would have shown the kind of stuff that you are made of and then they just let you be.
How did your journey into politics begin?
My journey into politics swopped because it was my husband that was into politics and I was humanly against it because I was doing my job. I had seen people who had been destroyed by politics and I complained to him that I didn't want him to continue in it. He was on the verge of accepting when one day, because I had built a school for the community in which I lived and put up a health centre for them, they came to my home and said they wanted to tell me that they needed someone to contest in my home. I told them that if it was my husband they wanted, they should forget it because I was against it. They said no, that they wanted me to contest. I was taken aback because then, I was still working with DBN. They said that I had added value to their lives and given their people a new lease of life. Eventually, the community won, because they kept on at it and so I came into politics. It is exciting. It is not bad if you are honest.
How has it been?
Rugged. But God has been very faithful and every disappointment has led to more blessings.
What do you have to say about the political crises in the country?
You can't but have them. They abound everywhere. The difference in Ekiti is that the people are very learned and usually capable of exhibiting it anywhere, and that is why you read about it in newspapers. Yet worse things happen in other states and you don't hear about them. But we are capable of handling those situations. They are just situations. You must have noticed that we don't kill each other. But we talk. So we keep talking because, you see, nobody will give you space. You have to fight for it. And when you are fighting for it, you must disgrace some people.
How do you unwind?
I don't know. I am trying to figure out a way to do it because the governor I work for now does not know how to relax. He works all day, and so, if you must add value to what he is saying, you must put in more hours at work. So I'm trying to squeeze out more time out of 24 hours so that ends can meet.
Most people call your current boss Mr Go Slow…
When the man is extremely intelligent, he cannot be as brash as most people. He has a deep knowledge of everything and he can discuss any topic at any given second, apart from the fact that he is a fantastic man, a hardworker, good boss, and he lets you be yourself. He gives you target and allows you to excel.
How romantic are you?
I don't know. You need to ask my husband. I'm trying to learn because I'm getting older. I have been a tomboy all my life and I know I have to shed all that. I'm trying but it is not easy.
Do you still feel like it as you used to?
No, I'm used to being away from my husband because my schedule is very tight. So, you need to forget and believe that those things do not exist again, so that you can get on with your work. But when I need to recharge, I do so on all networks.
Disclaimer:

"The views/contents expressed in this article are the sole responsibility of

NBF NEWS

and do not necessarily reflect those of The Nigerian Voice. The Nigerian Voice will not be responsible or liable for any inaccurate or incorrect statements contained in this article."