Ikorodu Robbery...Part 2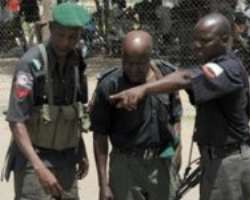 The arm of the law is impotent in climes such as ours!
The bank in Ipakodo lies directly in front of the police station. The robbers operated for over three hours, took their time, were not in a rush...and loudly challenged the policemen posted to that police station to a duel! And after they left, the police as usual, arrived with armoured vehicles and started harassing and arresting innocent bystanders! And helicopters started hovering overhead!
All Ipakodo-stationed policemen hid within the premises of Ipakodo grammar school for the entire duration of the robbery...albeit shamelessly! I have often said Nigerian policemen are cowards more adept at harassing and killing well-attired gentlemen who as much as try to plead their rights...or hapless danfo drivers who fail to part with their N20!
We still come back to the same thing...poor governance! Though that does not excuse our policemen from harassing poor souls who have not committed any offence... and extorting money from them, kill innocent Nigerians on contract, hire police guns to armed robbers! They are just despicable! Extrajudicial killings of all shades and colours...just because our laws permit them to shoot suspects trying to resist arrest or trying to escape from custody, they just shoot innocent law-abiding citizens at random, cook up paperwork to appear as if you are trying to disarm them, resisting arrest, or escaping from custody! Then, when real armed robbers come, they pull off their uniforms and hide! As a Dr, I relate with them and have my facts! If you have ever been in police trouble, you would never defend those thugs in police uniform...
Dr Tosin Akindele is a medical practitioner and public affairs analyst.
Disclaimer:

"The views/contents expressed in this article are the sole responsibility of the author(s) and do not necessarily reflect those of The Nigerian Voice. The Nigerian Voice will not be responsible or liable for any inaccurate or incorrect statements contained in this article."
Articles by Tosin Akindele