Disclaimer! Disclaimer!! Disclaimer!!!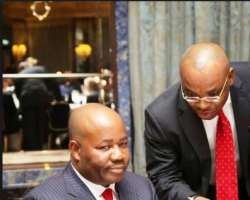 RE: GOVERNOR UDOM APPOINTS KEY MEDIA AIDES
The attention of the Chief Press Secretary to the Executive Governor of Akwa Ibom State has been drawn to a fake press release currently circulating on the social media platform and purportedly signed by me, announcing the appointment of 9 media aides to the Executive Governor of Akwa Ibom State, Mr. Udom Emmanuel.
The fake press release emanated from a fake e-mail account:[email protected] as against the authentic Government House Press Corps email account which is: [email protected]
Members of the public are hereby advised to disregard the said press release as the Executive Governor, Mr. Udom Emmanuel has not approved such appointment.
Meanwhile, law enforcement agents have been notified, and the purveyors of this sick joke will be made to face the full weight of the law.
Signed:
Ekerete Udoh
Chief Press Secretary/ SSA (Media) to the Executive Governor, AKS
Essien Ndueso
e-mail:[email protected]