POPE 'AVAILABLE TO MEET CHILD SEX ABUSE VICTIMS'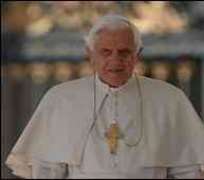 The Pope has met vicitms of abuse from several countries
Pope Benedict XVI is willing to hold new meetings with victims of child sex abuse by Roman Catholic priests, the Vatican spokesman has said.
Speaking on Vatican radio, Fr Federico Lombardi said many abuse victims were seeking moral and not financial help.
In the past, the Pope has met victims of abuse at the Vatican and on trips to the US and Australia.
The Catholic Church has been shaken recently as allegations of abuse have emerged across Europe.
The allegations, many of which date back decades, have put pressure on the Church in countries including the Pope's native Germany, Ireland, Switzerland, the Netherlands, and Austria.
"The Pope has written that he is available for new meetings" with victims, Fr Lombardi said on Friday.
"Apart from the attention we must pay to the victims, we must pursue co-operation with the relevant civilian judicial and penal authorities, in line with the legal and other situations in each country," he said.
"Transparency and rigour impose themselves as urgent requirements."
The Pope wrote a letter to the Irish last month in which he apologised for abuse and said there had been "serious mistakes" made by bishops in responding to allegations.
But the Vatican has also sought to play down the crisis, accusing the media of exaggerating the problem.