AFRIMA, AU, ONE Mark Day of African Child in Soweto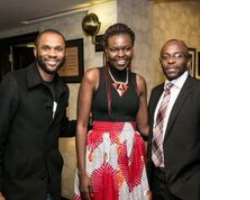 All Africa Music Awards (AFRIMA) in partnership with Africa Union Commission, AUC, and ONE commemorated the Day of the African Child (DAC) on August 15 with a special event as part of the programme of events of the 2015 Africa Union (AU) Summit held from June 7 to June 15.
The DAC event which came up at the Soweto Hotel, Soweto, South Africa took place under the theme "Ending Child Marriages". It was attended by South Africa's Minister of Social Development, Ms. Bathabile Dlamini; Director of Social Affairs of the AUC, Ambassador Olawale Maiyegun; Representative of United Nations High Commissioner for Refugees (UNHCR) to the AU, Jane Okello; and Commissioner, Commission for the Promotion and Protection of the Rights of Cultural, Religious and Linguistics Communities, Sheila T. Khama, among other delegates.
Nigerian film star, Omotola Jalade-Ekeinde, who is also ONE's "Poverty is Sexist" campaign ambassador, took part on the panel of an intergenerational dialogue on the theme. In line with the AU declaration of 2015 as the Year of Women Empowerment and Development, "Poverty is Sexist" is ONE's global campaign to push African leaders to step up with a clear set of policy reforms and budget commitment in their declaration at the 2015 AU Summit. The main digital asset of the campaign is a song titled "Strong Girl" which ONE produced in collaboration with some of the continent's top female artists namely; Yemi Alade (Nigeria); Waje (Nigeria); Gabriela (Mozambique); AFRIMA 2014 winner of Best Female Artiste in Eastern Africa, Vanessa Mdee (Tanzania); Victoria Kimani (Kenya); Arielle T (Gabon), Judith Sephuma (South Africa) and a new teen rapper known as Blessing (South Africa).
After the plenary session, ONE in partnership with the AUC, South Africa's Department of Social Development, and the All Africa Music Awards (AFRIMA) hosted a cocktail at the same venue. The cocktail was opened by Ambassador Maiyegun, while Regional Director of Plan International, Roland Angerer; AFRIMA Jury member (representing Southern Africa from Zimbabwe) Delani Makhalima and Mr. Thabiso Pule from South Africa's Department of Social Development also spoke at the event.
In his speech delivered on behalf of the International Committee of AFRIMA, Mr. Makhalima reinforced AFRIMA's commitment to working closely with ONE and the AUC to achieve the social change through creative arts.
"Children are at the heart of our epicentre as music revolves around young people. AFRIMA encourages the continued use of musicians and the AFRIMA platform to send positive messages of discouraging Child Marriages in Africa. Such initiatives need to involve AFRIMA more so that we can collectively run and implement year round campaigns across the continent.
The cocktail culminated in a performance of 'Strong Girl' by Yemi Alade, Selmor Mtukudzi and AFRIMA 2014 winner, Vanessa Mdee.
AFRIMA, the continental awards in partnership with AUC and ONE amongst other institutions, is conceptualised to celebrate, showcase and reward the musical culture of the African race in 34 award categories. Entry submission for the awards is currently ongoing and will close on July 20,2015. Programme of activities for the 2015 awards to hold in Lagos in November 2015 include the Africa Music Summit under the theme "Reviving the Business of Music in Africa for development; the AFRIMA Music Village, an open two-day cultural fiesta of festivity and live performance by African music stars and the concept themed Main Awards Ceremony to be broadcast live on partner media platforms across Africa.
CHAIRPERSON, AFRICAN UNION COMMISSION, DR. NKOSAZA NA DLAMINI-ZUMA
CROSS SECTION OF PARTICIPANTS AT THE AFRIMA -ONE EVENT
CROSS SECTION OF PARTICIPATING CHILDREN AT THE AFRIMA-ON E EVENT
PRESIDENTEXECUTIVE PRODUCER, ALL AFRICA MUSIC AWARDS , AFRIMA, MIKE DADA
R.L - AFRIMA JURY MEMBER DELANI MAKHALIMA; SELMOR MT UKUDZI AT THE AFRIMA-ONE EVENT