CULTURAL REVIVAL: DERIDED AT HOME, IFA FINDS SEAT IN IVORY TOWERS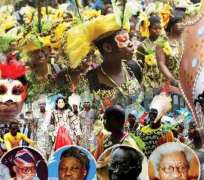 Among other Yoruba philosophies, Ifa occupies a unique position. Combining religious tenets with morality and wisdom, it has influence on other sub-faiths, with its priest, Orunmila, being a major counsellor and doctor to them. As crucial as the role Ifa is believed to have played among the gods and subsequently the people, however, it is one of the African phenomena that is under the jackboot of civilisation and attendant exegesis of modernity.
The state and fate of Ifa became a primary concern in Lagos on Tuesday at a colloquium held as part of the Black Heritage Festival organised by the Lagos State government. As has become recurrent when some major elements of Yoruba heritage is the issue, the cry for preservation came from a quarter as far as the United Nations Educational, Scientific and Cultural Organisation. Its official that sort of became an advocate for it is Benin Republic-born scholar, Prof. Olabiyi Yai, who pleasantly stunned his audience when he delivered his presentation in Yoruba.
According to Yai, who is the chairman of UNESCO's Executive Board, Ifa entails so much that it should not be wished away by any sensible race. It is not just a religion, he said, adding that it is a way of life.
Another major point he stressed derived from the names he attributed to Ifa. One of such is Afedefeyo, which, according to him, indicates that Ifa is a multilingual. While noting that it was re-assuring that a good number of enthusiasts are practising Ifa abroad, he is piqued that such people now salute Ifa as Afede-ma-feyo. This, according to him, contradicts Ifa multilingual status.
''There is the need to reflect on the future of Ifa,' Yai said. 'Another lesson here is that everyone should try to procure the Eyo appellation.' The Eyo Yai was referring to is not the popular Lagos masquerade, but the linguistic essence of the deity. 'We should be able to learn other languages aside from our mother tongues.'
Yai continued, 'We should also strive to return Ifa to prominence. Ifa is Akoniloran bi iyekan eni - the one who teaches others wisdom as if they are his kinsmen. But as important as Ifa is, it can go into extinction if we do not rise to the challenge.'
Yai's proposition corroborates the theme of the festival, on which the Nobel laureate and head of the festival's organising committee, Prof. Wole Soyinka, makes case for the revival of indigenous values.
According to Soyinka, who described the festival as that of reconnection, revaluation and re-vindication, its genesis lies in the desire to heal a dislocated sense of identity.
'For over a millennium, African indigenes South of Sahara have been hunted, bartered and sold into slavery by Arab slavers, often with the active connivance and participation of Africans themselves,' the Nobel laureate notes in a preface to the programme of the festival.
'Millions perished even before destination along the Trans-Atlantic route, the Trans-Saharan route, and the Indian ocean route to Iraq and Persia, now known as Iran. For centuries, and even till today, many could neither recall nor manifest the slightest interest in their antecedents. By contrast, especially since the latter half of the 20th century, hundreds of thousands of the descendants of the victims have embarked on return journey home - some in search of their true origins, others in the spirit of a symbolic pilgrimage.'
Enter Ifa University
As Yai noted, there is a lot of odds against Ifa. But there are still some prominent individuals who still hold tenaciously to it even in Nigeria. Among such are Yai's contemporaries such as a former Vice-Chancellor of Obafemi Awolowo University, Ile Ife, Prof.Wande Abimbola, who practises the religion and even engages in Ifa divination at home and abroad. His colleagues such as Prof. Akinwunmi Isola and Chief Yemi Elebu Ibon are also involved in various degrees.
What also seems like a future-saving for Ifa came about four years ago when, largely based on the efforts of the three, the UNESCO had adopted the Ifa's great poetry called the corpus as a piece of intangible heritage. But the most tangible aspect of the intervention is in the establishment of a University of Ifa in Oyo, where Abimbola and his acolytes are galvanising other Ifa scholars and other traditionalists to teach young ones and other enthusiasts.
And the film priests
Despite the widespread influence of Islam and Christianity, there are indications that even many of the adherents of the new religions still consult Ifa. An indication lies in scandalous tales that stream into the public about some pastors or imams surreptitiously striking deals with some herbalists or Ifapriests.
Another evidence lies in many Yoruba films where actors or actresses facing difficulties usually rush to Ifa shrines. It is this habit that made Peter Fatomilola and some other actors film Ifa priests.
The every Saturday gathering for Ifa
Another semblance of hope for Ifa has to do with the critical anger with which some young Nigerians now view the modern religions. As a result, some of them are, indeed, finding their way back into the shrines.
In Lagos, for instance, some of such youths worship at an Ifa temple called Ijo Orunmila, in areas like Ebute Meta, Mushin and Somolu, in Lagos. Every Saturday, the Ijo Ounmila worships for about four hours, chanting Ifa songs called Iyere. They also listen to sermons based on the Ifa philosophy.
Yai advocate of cultural revival
As a specialist in African languages, literature, alphabetisation, oral poetry and the culture of African diasporas, Yai has held professorships in Benin, Nigeria, Brazil, Japan and the United Kingdom. He participated in the development of UNESCO's programmes in the field of African languages and culture and is Ambassador of Benin to UNESCO as well as a member of numerous international boards, committees and juries in the field of culture.
Yaï was elected in November 2007 as Chairman of the UNESCO's Executive Board.
During his mandate as Ambassador, he was a Member of the World Heritage Committee, the Committee of the International Fund for the Promotion of Culture, the International Scientific Committee of the Slave Route Project and the Jury for the designation of Masterpieces of Oral and Intangible Heritage as well as for the Melina Mercouri and Simon Bolivar Prizes.
Before his appointment as Ambassador, he was a Consultant for culture and language policy in Benin, Burkina Faso, Nigeria, Togo and Mozambique in the 1970s and 1980s. He taught as Professor at the Universities of Benin, Ibadan and Ife and Florida, USA. He also acted as Director of the Institute of Cultural Studies, University of Ife, Nigeria and as Chair of the Department of African and Asian Languages and Literatures, University of Florida, USA.