We're working hard to end crisis -APC Chairman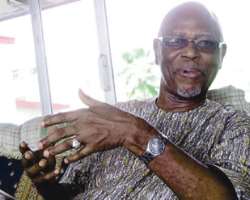 The National Chairman of the All Progressives Congress, Chief John Odigie-Oyegun, has said the party is working hard to resolve the crisis rocking the party to pave way for it to fulfill its campaign promises to Nigerians.
This was contained in a statement signed by Odigie-Oyegun in Abuja on Friday.
He said the party had reached out to all interested parties, assuring that when the National Assembly resumes next week, Nigerians will once more see 'one harmonious, happy APC family.'
Odigie-Oyegun said, 'We owe it to our party, our teeming members and supporters and indeed all Nigerians who reposed so much confidence in us by voting us into office to quickly put the unfortunate incidents of the recent past behind us and forge ahead.'
In a related development, the APC Chairman rose in defence of the party's National Publicity Secretary, Alhaji Lai Mohammed, who is being vilified in his home state of Kwara for signing the statement conveying the party's reaction to the election of the National Assembly leadership on June 9, 2015.
Odigie-Oyegun explained that Mohammed's statement was issued with the knowledge and consent of the party; hence it would be wrong for anyone to make him a sacrificial lamb for carrying out his party's responsibilities.
He said, 'The party is aware that its National Publicity Secretary has been grossly misunderstood by virtually everyone, especially in his state, just because he carried out his duty by signing the said statement by the party.
'At a personal risk and putting the party's interest above his own, he issued that statement which reflected the position of the party at that particular time.
'The party is solidly behind him, and it will be wrong for anyone to interpret the statement as representing his personal opinion.' Punch