Abia lawmakers express worry over rise in kidnap cases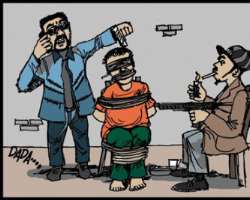 Members of the Abia State House of Assembly have expressed worry over the rising cases of kidnapping in some parts of the state.
The legislators, in a resolution on Wednesday, mandated the security agencies in the state to rise up against criminals in the state.
They spoke after deliberations on a motion of urgent public attention moved by the Minority Leader of the Assembly, Mr. Abraham Oba.
The Abia lawmakers specifically asked the Area Commander of the Nigerian Police Force in charge of Aba to ensure that hoodlums were not allowed to terrorise residents of the commercial town again.
They also warned youths in the state against engaging in kidnapping and reminded landlords that the existing laws against kidnapping in the state make owners of any building used for kidnapping to lose such building to the state.
For the better part of 2009 and 2010, Abia State witnessed the reign of kidnappers, who almost crippled the economic activities of Aba, the commercial hub of the South-East.
Just last Tuesday, gunmen abducted one Mr. Anthony Abomah, employee of an oil servicing company, Saipem Nig Ltd, which is based in the Owaza Community in the Ukwa West Local Government Area of Abia. The abductors later demanded N2m ransom.
A week before Abomah's abduction, an employee of Silverbird Television, based in Port Harcourt, was also allegedly shot dead in Aba by unknown gunmen who attempted to abduct her when she visited her parents.
A top member of the Aba Sports Club (name withheld) had also been kidnapped in Aba same week as the Silverbird's employee.
There are also increasing cases of car snatching, especially Toyota Camry, in some parts of the state, including Umuahia, the state capital.
Worried by the development, Governor Okezie Ikpeazu said he had concluded plans to submit a bill to the state House of Assembly seeking to establish a Security Trust Fund.
He said his government would employ modern technology to check crime in the state.
Meanwhile, the Abia State Police Command has reiterated its readiness to make the state a hot zone for hoodlums.
The Police Public Relations Officer, Mr. Ezekiel Onyeke, in an interview with our correspondent said the command had intensified efforts to combat all forms of crime in the state.
He assured residents of their security and asked for cooperation of the members of the public in volunteering information to the police in order to track down criminals. - Punch.