'GOVT SHOULD PAY ATTENTION TO OTHER MEANS OF TRANSPORTATION'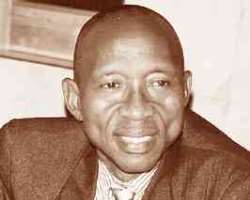 How would you describe the state of Nigeria's transport sector?
The state of Nigeria's transport sector can be described simply as chaotic. This is so because of the lack of proper transport policy in the country. Transportation in Nigeria is operated as an all comer affair. There is no proper national planning and coordination in the transport sector in the country, like the saying goes, 'If you fail to plan, you plan to fail.' This is why the transport sector in Nigeria is in disarray.
What are the challenges facing the sector?
The challenges are numerous; they include government's ineptitude in handling transport problems, inadequate attention to the deplorable transport and transportation facilities, infrastructural challenges, human capital challenges and operational standardisation, ethics and quality benchmarks among others.
How can the challenges be successfully tackled?
Government should pay more attention to professionalism in the transport and logistics sector. The professionals will be able to proffer solutions to most of the transport problems.
How can the country utilise the transport sector to facilitate the development of the economy?
It can do this through the development of all transport modes and the proper coordination and utilisation of the various modes appropriately. There has been over concentration on the roads for the movement of freight. The rail, waterways and pipelines are not given due attention in the distribution of products, be it liquid or solid. If these modes are adequately and appropriately utilised, our economic development will be greatly enhanced.
What would you say is responsible for the development recorded in the transport sector of the advanced countries?
The development recorded in the transport sector of the advanced countries centred mainly on the operation of transport policies as well as coordination of all the transport modes. The transport professionals in the advanced countries are given responsible roles to play in the formulation and implementation of transport policies.
Which countries can Nigeria learn from in the development of the transport sector?
Nigeria can learn from Britain, the United States of America, Japan, Hong Kong, Malaysia, Indonesia and even Saudi Arabia, where Muslims all over the world converge on annually without hitches in their transportation system and facilities.
What is the future of Nigerian transport industry?
There will be light at the end of the tunnel for the Nigerian transport industry if the various tiers of government can put right the anomalies in the transport sector and professionalize the sector.
What is your advice to the government?
My advice to the government is that they should come up with a transport policy and regulations in consultation with transport and logistics professionals in the country for a workable transport sector development.