Arms deal: FG to demand seized $9.3m from South Africa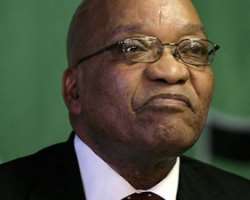 The Federal Government is to demand the release of the $9.3m weapon money seized   from some agents of the immediate past administration of Goodluck Jonathan by the South African authorities on September 5, 2014.
President Muhammadu Buhari made this known while addressing Nigerians resident in the former Apartheid enclave at the Nigeran Consulate in Johannesburg on Monday.
He also told the gathering that he would seek a review of the cases of Nigerians currently in South African prisons and those pending in courts when President Jacob Zuma visits Nigeria.
The President said, 'I'm told there are 83 Nigerians in prisons here(South Africa);   I don't know what they have done but I spoke to the President of South Africa this(Monday) afternoon.
'He (Zuma) wants to come to Nigeria. There are issues he knows which he wants to talk about. I will certainly talk to him; I hope our ambassador will send a comprehensive report about the court cases and about those who lost properties during the xenophobic attacks recently.
'And at that time, I will attempt to ask him about our $9.3m which was not correctly transferred.'
A month after the September 5, 2014 seizure, the South African authorities reportedly impounded another $5.7m, claiming that both funds were to be used for illegal purchase of arms.
However, Nigeria's National Security Adviser, Sambo Dasuki, said the transactions were legal and urged the Zuma government to stop actions that could degenerate to a diplomatic showdown between the two countries.
Indications later emerged that an aircraft   conveying the $9.3m belonged to the President of the Christian Association of Nigeria and a close confidant of Jonathan, Pastor Ayo Oritsejafor.
Oritsejafor denied knowledge of the arms deal. - Punch.