Citizen Samuelson Cautions Imo Assembly New Speaker Again Over Uwajumogu's Aides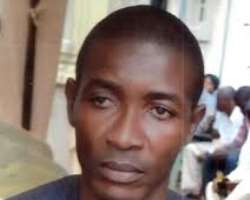 Socio-political crusader, Citizen Ikenna Samuelson Iwuoha has for the second time cautioned the new Speaker of Imo State House of Assembly, Rt. Hon. (Dr.) Acho Ihim over the alleged plan to retain senior aides of the former Speaker, Rt. Hon. Benjamin Uwajumogu.
Citizen Samuelson maintained that retaining those boys by Dr. Ihim would mean inheriting Uwajumogu's problems, battles and troubles as he would not sheath his sword against the office of the Speaker. Citizen Iwuoha has therefore pleaded with the Clerk of the House of House, Chief Sir Chris Duru and the other Honourable members, including Political and Religious leaders in the State to talk sense into Rt. Hon. Acho Ihim so that he would not make the mistake of inheriting Uwajumogu's problems by attempting to retain any of those senior aides whose names he listed as follows (1) Mr. Kodichi Anamekwe (2) Emeka Ahaneku (3) Godson Amadikwa (4) Kinglsey Ndubueze (5) Mr. Dan Orji (6) Mr. Ugwu (7) Mr. Ifeanyi Nwannenna etc.
Few days ago, Citizen Samuelson had congratulated the new Speaker on his emergence but strictly cautioned him never to retain Uwajumogu's senior aides over their criminal, fraudulent and occultic tendencies including his battles with the office of the speaker. Hear him "The only condition for me not to attack the office of the speaker is for the new speaker not to retain those thieves and criminals parading themselves as Uwajumogu's senior aides. Dr. Acho Ihim must not inherit Uwajumogu's problems.
...I am not ready to sheath my sword against the office if he retains those boys. Let Dr. Acho Ihim recruit his own aides from his campaign organization and from credible citizens across the State. Acho Ihim is already aware of this caution even before his emergence as speaker. I spoke with him weeks before his emergence. Even on the day of his inauguration as speaker, he called me and I repeated my stand that he must never retain any senior aide of Uwajumogu.
If he disregards this honest appeal, let nobody blame me. Rt. Hon. Dr. Acho Ihim knows that I am an authority in legislative matters and he would not like me to spoil things for him. The rain will surely beat him if he disregards this humble appeal. I am already in the boxing ring waiting. I am therefore calling on the clerk of the House, Chief Chris Duru, other Honourable members and indeed our respected political and religious leaders to talk to Rt. Hon. Dr. Acho Ihim. I have nothing against him. I have an unfinished business with Uwajumogu and his senior aides" Citizen Samuelson concluded.
IMO INITIATIVE REPORTING FROM OWERRI 15-6-2015