School Meals For All Nigerian Primary School Children? Yes, Please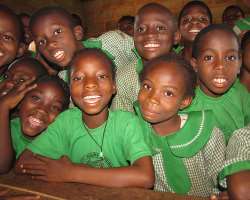 A couple of years ago I wrote an article explaining what I felt was a real risk to Nigeria's national interest due to the growing trend of 10.5 million school age children being out of school. [1] The article concluded that the country was sitting on a "ticking time bomb" that could explode with catastrophic consequences for all Nigerians, if this trend was not addressed quickly. I suggested some options to mitigate this risk, including the introduction of a national primary school meal program.
Since the publication of the article, and during the run-up to the recent Nigerian general election, the All Progressives Congress party ("APC") made a pledge in their manifesto to introduce free daily school meals for all primary school children. [2] This was a timely and needed pledge. Now that the APC has been given the national mandate, the newly-elected government should proceed to deliver on this promise and put in place the legal and administrative framework to effectively implement a school meal policy.
The policy and its benefits:
A good start would be to adopt Article 24 of the Convention onthe Rights of the Child [3] and legislate for the provision of "adequate nutritious foods" for all children in state funded primary schools. I suggest this is made a constitutional provision. Setting the policy within a constitutional legal framework will strengthen its delivery across the entire nation. [4] It is also suggested the government sets up a joint cross-departmental task force comprising officials from the Ministries of Agriculture, Education, Health, and Finance to implement this policy and monitor food quality and compliance.
Implementing this policy can benefit several sectors in Nigeria. For example, it could benefit the health sector by improving child nutrition and reducing the chance of our children falling ill. The education sector could benefit by (a) Increasing school enrolment rates; (b) Improving attendance at school; (c) Increasing concentration in class, and arguably, improving children's learning outcomes. As a result, learning and teaching will become easier and more rewarding. Also, our local economic activities across the nation may expand due new local jobs created (as a direct result of this national policy) in the agricultural, construction, transport and catering sectors.
Critics of the school meal policy may argue about the huge implementation costs. They have a good point. After all, it is an ambitious project that will require a huge financial commitment from the government. New cooking facilities in the numerous schools will need to be built, and cooking and eating utensils purchased in large numbers across the entire nation. Also, there are operational costs such as providing a regular supply of water, food ingredients and fuel to cook these meals. In addition, the salaries of catering staff and farmers, the costs of transportation of food materials, and costs of monitoring food quality will also need to be covered.
However, if implemented properly, this is an investment in our nation's future, which in the long run will yield dividends for all Nigerians, directly or indirectly. Nigeria's children are the country's most important asset. And providing primary school healthy meals for all children will go a long way to protect and sustain this asset. After all, of what good is the natural economic resources our country has if our emerging labour force is not healthy and sufficiently educated to exploit its benefits for the country's development? Therefore, a national school meal policy should carry an equal or even higher weighting amongst the competing demands on government expenditure.
To help reduce costs, free school meals can be provided only to children from the poorest families, whilst at a subsidized price to children from non-poor families. Clearly a system will need to be adopted that fairly assess who qualifies for free meals and who receives it at a subsidized rate. But this administrative hurdle is not insurmountable if there is political will and the legal framework is in place. Also, international organisations exist who can provide technical assistance for sustainable and effective implementation of this programme. [5] Furthermore, there are best practices and models in other countries that our policy makers can understudy to develop this programme and learn how costs were managed.
When I was in primary school in the 1970s in England, hot school meals were provided daily for every school child. [6] I have fond memories of those meals and I'm sure they helped me concentrate better in class and participate actively in school activities including sports. School lunch was an integral part of the school day. When we sat down to eat with fellow children and teachers it cemented relationships and helped us develop social skills. The UK Government still has this policy.
Millions of school children in Asia, Europe and the Americas also enjoy school meals where their governments promote these policies. Even countries with bigger populations than Nigeria implement school meal policies. For example, India'sMidday Meal Scheme provides free lunches to 120 million Indian children every school day. [7] The USA provides low-cost or free lunches to more than 31 million U.S. children each school day. [8] In 2013 Brazil provided school meals for 45 million students every school day and has been running this program for over 50 years. [9] Encouragingly, three states in Nigeria, Osun, Enugu and Anambra, have introduced school meals in their public primary schools. [10] The challenge is to extend this policy nationwide.
Every year I travel to my village in Delta State to volunteer teaching and distribute essential educational materials to poor primary school children. There is no doubt in my mind that the children are keen to learn. They enjoy reading the story books and colourful educational posters I bring from London. Some of the children walk for miles in all weather conditions, just to get to school. But their learning environment is nowhere near conducive. The school I visit does not provide school meals, and does not even have pipe-born running water or electricity. The difficulties of learning when one is hungry and tired are well known. Yet, these children are expected to concentrate and learn at school. Their experience is similar to millions of other children in Nigeria. The majority of Nigerian school children are missing out on a healthy start in life simply because of where they were born. It is not their fault, and it is not fair. Every Nigerian child deserves the same healthy start as children born in Asia, the Americas and Europe. After all, no one chooses where they are born.
To maximise the benefits of providing healthy meals in our primary schools, government at all levels (federal, state and local), should combine this policy with (a) Continuous investment in teacher competence; (b) Adequate provision of books and learning materials, (c) Involvement of the voluntary sector; (d) Free annual medical health checks for every school child, and (e) Maintaining and upgrading learning education facilities. Collectively, these can form the foundation of a Nigerian "New Deal" education policy.
Conclusion:
If we take a long-term view and implement a national school meal policy properly, I believe the standard of education both offered and received will gradually improve. Every Nigerian child would have a healthy start in life and a fairer opportunity to fulfil their potential for themselves, their families, and the nation. Also, the positive domino effect on our local economies as a result of the investment in this policy would lead to further economic growth in our local communities.
Ultimately, as a consequence of this policy, in the near future a Nigerian healthy, educated work force will emerge which is better equipped to sustain our long term economic development. When this happens, I am confident we will eventually defuse the ticking time bomb that is currently threatening Nigeria's national interest.
Ifeanyichuku Ochei
[email protected]
---

[1] Nigeria's 10.5 Million Children Today, Nigeria's Headache Tomorrow? By Ifeanyichuku Ochei

Sahara Reporters: http://saharareporters.com/2013/12/14/nigeria%E2%80%99s-105-million-children-today-nigeria%E2%80%99s-headache-tomorrow-ifeanyichuku-ochei – Published on 14 December 2013

The Guardian: http://issuu.com/theguardian-ngr/docs/jan20141501 - Published on 15 January 2014

The Nigerian Voice: http://www.thenigerianvoice.com/author/IfeanyichukuOchei - Published on 1 January 2014

[2] APC's Face book campaign https://www.facebook.com/professoryemiosinbajo/videos/640534212723615/ , and APC's manifesto http://www.apcpressreleases.com/the-apc-manifesto/2/

[3] https://www.unicef.org.au/Discover/What-we-do/Convention-on-the-Rights-of-the-Child/childfriendlycrc.aspx

[4] Although in 2003, Nigeria enacted the Child's Right Act, not all the states in the country have promulgated it into their state laws. Akinwumi, Olayinka Silas (2010) "Legal Impediments on the Practical Implementation of the Child's Right Act 2003," International Journal of Legal Information: Vol. 37: Iss. 3, Article 10.

Available at: http://scholarship.law.cornell.edu/ijli/vol37/iss3/10

[5] See the world food programme. http://www.wfp.org/ Also, since 2009, Imperial College London's Partnership for Child Development has used its operational research expertise to deliver technical assistance to governments for the sustainable and effective implementation of Home Grown School Food programmes (HGSF) in some African countries.

[6] The UK Education Act of 1944 made it compulsory for local authorities to provide daily school dinners, with legal nutritional requirements.

[7] http://www.mdm.nic.in/
[8] http://en.wikipedia.org/wiki/School_meal#United_States (accessed on 05/06/2015)

[9] http://www.internationalschoolmealsday.com/share-practice/2014-national-education-development-fund-brazil/ And in the Latin American countries, the World Food Programme (WFP)

[10] HSGF Home Grown School Feeding http://hgsf-global.org/nigeria/

See also Imperial College, University of London: http://www.hgsf-global.org/en/bank/news/402-nigerias-federal-ministries-collaborate-to-extend-hgsf
Disclaimer:

"The views expressed on this site are those of the contributors or columnists, and do not necessarily reflect TheNigerianVoice's position. TheNigerianVoice will not be responsible or liable for any inaccurate or incorrect statements in the contributions or columns here."
Articles by Ifeanyichuku Ochei