Chief Ifeanyi Ubah To Buhari: Remove Fuel Subsidy, Probe Those Behind Shutdown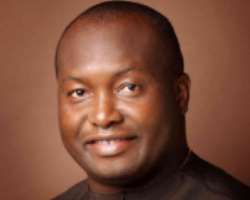 As President Muhammadu Buhari settles to the responsibility of leading the country today, the managing director of Capital Oil, Mr Ifeanyi Ubah, has called on him to remove fuel subsidy as well as probe the marketers behind the nation's recent shutdown.Ubah was speaking with select journalists in Abuja where he appealed to Nigerians to support the deregulation in other to get petroleum products at the lowest price.
He said, "I have always been of the view that we should deregulate so that we can cut out corruption but unfortunately Nigerians didn't take it from Jonathan.
"I urge President Buhari to take a bold step and deregulate the oil sector. He is not a stranger to the sector having been a former minister of petroleum. He will be respected for taking the step. There's no point paying subsidy when Nigerians are not benefiting from it. The president will be doing the right thing if he deregulates the sector so that the products will be sold at cheaper rate in the future."
Although he confirmed that marketers were being owed by government, he, however, maintained that the agitation for the payment of their monies was not properly handled.
He said, "Indeed the marketers are being owed large sums of money and I am one of those being owed but I believe that dialogue should have been the choice of the marketers, especially considering the state of the nation. It was unprecedented in the country for OIL MARKETERS to go on strike for up to four days. What I expected was that there would have been a warning strike before a total shut down."
While disclosing that the decision to shutdown the country was not a unilateral one, he stated that the few marketers who were behind the shutdown should be probed.
"It was unpatriotic for them to shutdown the country. If this is not properly investigated, there could be a repeat of such. Marketers should know that they are not labour unions; there was an agreement with government to pay them gradually, but they disregarded the agreement and unpatriotically threw the country into crisis," Uba said.
He revealed that he pulled out of the oil marketers' strike because his company was not consulted before the marketers' decision to shut down operations was taken against national interest.
He said: "My facilities store products for the Pipelines and Petroleum Marketing Company (PPMC) an arm of the Nigerian National Petroleum Corporation (NNPC) which means such products belong to the Federal Government.
"For a facility like ours, we should be considered before taking this position, what if people storing product in our facilities sue us? They have the rights to take their products, what if PPMC sue us or cancel our contract? We need to ask these questions.
Uba said he decided to resume fuel supply because he could not bear the horror of Nigerians dying in hospitals, and banks shutting down and consequently putting the masses in hardship, even as he revealed that his company had to rescue telecoms giant, MTN, by supplying the diesel, a development he said prevented communication across the country from experiencing a major downtime.
While expressing disappointment that many Nigerians have attributed politics to his gesture, he stated that he has no regret for his action, saying he will be part of those that will ensure Nigeria works well no matter the criticism.
He further advised the Federal Government to assist INVESTORS interested in building refineries in the country, noting that failure by government to give the right support to players in the oil and gas sector in spite of their capacity to run the industry successfully had painful made Nigerians go through avoidable hardships in their country.
Citing an example with his firm, he said, "Go to Capital Oil you will see over 19 vessels floating, for three years none has worked for one day and these are INVESTMENT made in line with government policy. Who will give you facility when you don't even have turnover?"
"I would like to see the incoming government take a good look at the sector and I will be willing to advise because I have suffered so much in line with government policies in the downstream sector of the Nigerian economy," he added.
Uba recalled a number efforts he had made in the past to support what he believed were the right policies to help the economy grow irrespective of who the leader is, adding "I don't side anybody, I go straight to the point and I am not a sycophant for Buhari or for Jonathan.
ubscribe in a reader Privacy Policy