Chief Ogbonnaya Onu To be announced as the Secretary To The Federal Government (SFG)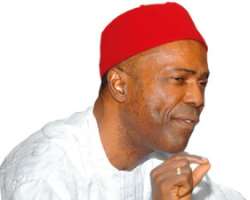 The Ohazara born politician and the former governor of Abia State, Dr. Ogbonnaya Onu will soon be announced as the new Secretary to the Federal Government of Nigeria. The Ebonyi State politician is renowned for his "decency" in all ramification of the word.
Dr Ogbonnanya Onu was the leader of ANPP, one of the political parties that midwived and nurtured APC. He is referred as a clean gentleman in outlook and manners.
A team player, he was selected at his party's primaries in 1999 as the
first presidential candidate of the now defunct All Peoples Party, APP.
He is currently a member of the Board of Trustees, BOT, of the APC and one
of the key figures that engineered the mega merger of political parties
that brought about the APC and led to the crushing defeat of the ruling
party, the Peoples Democratic Party, PDP, in the April 11 general
elections.
Dr. Ogbonnanya Onu holds a Doctor of Philosophy, Ph.D, degree in Chemical Engineering from the University of from the University of California, UC Berkely California, USA, 1980.