Suswam, Jang shun successors' inaugurations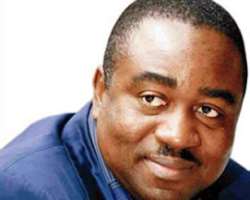 Former Benue State Governor, Chief Gabriel Suswam and his Plateau State counterpart, Jonah Jang, on Friday shunned the inauguration of their successors.
Sources said Suswam left for the United Kingdom early Friday morning for possible fear of being molested by youths over the state's debt profile.
While taking the oath, the new Benue State governor, Mr. Samuel Ortom, said he would not tolerate violence and related activities by anyone or group of persons.
Ortom also said he would correct the wrongs of Suswam and equally sustain his good legacies.
He was sworn in alongside his deputy, Benson Abounu, by the Chief Judge of the state, Justice Iorhemen Hwande, at the IBB Square in Makurdi.
Also in Plateau State, Jang was conspicuously absent at the inauguration of Simon Lalong.
Jang, who had earlier indicated intention to hand over to his successor on Thursday, did not do so, leaving his deputy, Mr. Ignatius Longjan, to perform the ceremony on Friday after Lalong had been inaugurated by the Chief Judge, Justice Pius Damulak.
Speaking at the ceremony, Lalong promised to tackle insecurity in the state.
He said his administration would establish a framework aimed at promoting peaceful co-existence among citizens and improve security.
Lalong said, 'Peace-building as a fulcrum of this administration will include developing alternative dispute resolution mechanisms and multi-track community interactional diplomacy. In this way, we will not only evolve a collective peace-building nexus and participatory governance in the state, but set up the appropriate and solid foundation for development.'
Though the Senator representing Kwara Central, Dr. Bukola Saraki, was absent at the swearing in of Kwara State Governor, Alhaji Abdulfatah Ahmed, for his second term in office, the senator urged the people of the state to support the governor.
A government source, who spoke on the condition of anonymity, said Saraki was absent because he was committed to his interest to become the President of the forthcoming Senate.
Speaking during the inauguration, Ahmed expressed his determination to deliver more dividends of democracy to the people.
Ahmed said, 'By now, most of you know the challenges we face. Our national economy is on its knees. Global oil prices, the mainstay of our economy, are dropping daily, limiting our ability to fulfil our obligations. These challenges are enormous but we refuse to give in to despair.
'I believe that this will be a defining moment in our history. I, Abdulfatah Ahmed, will not rest until the prosperity that our state once enjoyed is restored.
'My administration's priority remains the people's welfare. We will build more schools, roads, hospitals, power projects and structures needed to get more of our youths working, businesses growing, food on more tables and greater prosperity for everyone who calls Kwara State home.' Agency report