My Reverie On Buhari...And The PDP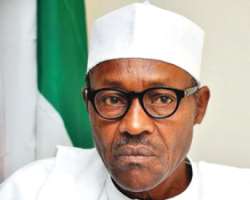 All Nigerians lay claim to Buhari...as we laid claim to Murtala Mohammed. They may have northern roots...but we all love them! It shows in our voting pattern, the sheer reverence we all accord him by standing up and springing to instant attention anytime BUHARI makes an entry....and the uncommon euphoria with which we greeted his victory at the polls.
He is a good man...and such good men know no tribe or creed.
This is a man I would be crazy to criticise. You know what that means? A man' pedigree is so good...so impeccable....and so reassuring...and so comforting... for its own sake alone... that you want to give him an ever-replenishing, self-sustaining benefit of the doubt.
To me, this BUHARI can never make a deliberate mistake! That is the gain inherent in a good name! Good deeds. And a good heart!
And that leads me to another point: How can...or could anybody...possibly so malign this man so brutally...as did the PDP? Even extending such invectices to his family! An abominable act crassly described by Fani-Kayode as "robust banter expected of any mature political discourse"!
Such are the weird ways of the PDP! That such a ruffled bed of strange bedfellows is imploding should not come as a surprise to any brilliant student of history! For as greed...inordinate stultifying greed...the main rallying point of that party is also the sole disintegrating factor that has dealt it a deadly blow.....
And the party seems to be over for this party, greed propels its members yet again, to leave it in droves and seek succour in what they see as the party of the moment, the APC!
So,let all northern bigots hold their peace and shut up!
We all own this Buhari...
Who no like better thing?!
Dr Tosin Akindele is a medical practitioner and public affairs analyst.
Disclaimer:

"The views/contents expressed in this article are the sole responsibility of the author(s) and do not necessarily reflect those of The Nigerian Voice. The Nigerian Voice will not be responsible or liable for any inaccurate or incorrect statements contained in this article."
Articles by Tosin Akindele