Growing natural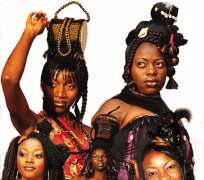 BY OLUWAFUNMILOLA ADEWARA
IT's a never-ending discussion: The woman hair. For the black woman, the story is different and complicating. The relaxer, the hot comb, curling irons, Iye, among others, have made her appearance to either pander towards the Western culture or make her 'local', if she insists on being natural. And since 1910, when Madam CJ Walker chemically relaxed her hair, the black woman's hair has moved, like a yo-yo, between the natural and relaxed.
Yet, it is the dream of every woman to have lovely, shiny hair. A well-made hair is the ultimate accessory a woman can adorn for any outing. It can add to or take away from her look, instantly.
Keeping it in healthy condition, thus, is the most important way to prepare for an outing. Here are some tips to grow your hair, natural:
• Eat a healthy diet, avoid foods that are high in sugar or fat. A diet that is low in protein may cause some thinning in hair or retardation in the growth cycle. The converse is true, if you eat a protein-rich diet it will often result in improved hair growth.
• Treat it carefully avoid any unnecessary brushing, combing or handling. Flat brushes are best for dry hair.
• Know your water; if your hair looks dull or is hard to style, the problem could be your tap water; so, avoid use of hot water, hot blow dryers or other hair care tools that may stress the hair.
• Do a series of ongoing hot oil treatments to protect the hair shaft.
• Deep condition once every two week; have a weekly scalp message to provide stimulation to the hair follicles these treatments penetrate the hair shaft and strengthen strands.
• Have regular trims to eliminate split ends and allow the hair to look and feel health.
• Get plenty of rest and sleep to allow your body to grow hair.
If your body is health and well nourished your hair will grow lovely.
Story by nollywoodgists.com