WAYBACK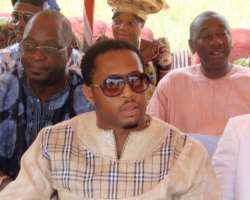 Nollywood stars take us down memory lane to reveal how and why they began acting...
"I became an actor quite by accident. It was Tade Ogidan's initiative, so to speak. He introduced me to acting and groomed me. A few things he said informally to those of us who have listening ears contributed to my growth."
- Keppy Ekpeyong Bassey
"I've always known [I would be] an actor from childhood because it's talent based. Living in Bondage initiated a whole lot of things and whenever I'm on set, I do exactly what my script says. I will never accept a script if I cannot do what is written in there".
- Kenneth Okonkwo
"While growing up, I loved watching television but I never wanted to be an actress though I wanted to appear on television, maybe as a lawyer or broadcaster. An old school friend of mine told me about an audition, I started up from the East."
- Ebube Nwangbo (pictured)
"It began in 2005 after I left the house of the Next Movie Star reality TV show where I emerged as the first runner up. The first movie I was in was produced by a friend of mine, Ada Slim Production. It was fun as well as motivation for my acting career."
- Tonto Dike
"I started really acting in 2005. I grew up in Lagos State [and] was always involved in TV. I had a headmistress and a proprietress then, who were so involved in the NTA and that made me an NTA child and exposed me to variety shows. So that was where I the stage at a tender age. I had one or two things with the Amata family. We were doing things together with Rukky and Fred. Finally, after school, one of the leads I had from work, I actually bumped into Rukky Amata, who is still a director in Nollywood."
- Mike Ezerounye
Story by nollywoodgists.com