Early exposure endeared me to music – Teeto Ceemos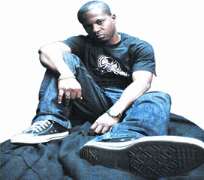 Fast rising musician, Oluwatoyin Salako, popularly known as Teeto Ceemos has undoubtedly carved a niche for himself in the music industry with his hit song, Oshamo. Oshamo is enjoying massive
airplay on radio and television stations at present, and in a way preparing the ground for the album scheduled for release soon. In this interview with FUNMI ELUGBAJU he spoke about his love for the act, his vision for his chosen career and why he chose music. Excerpts:
What is your background like?
I am from a rather large family with at least twelve siblings. I grew up in Nigeria, and I would call myself a thorough-bred Lagosian. I went to Grace Children School, Gbagada and then went on to Federal Government College, Ijanikin and then the University of Lagos, Akoka.
Tell us why you went into music.
Basically I went into music because of my older ones; I grew up listening to too much rap music. I was practically forced to listen to rap as early as the age of 4. One of my brothers sat me down to listen to the likes of LL Cool J; Rakim; Cool Moe Dee; Kool G Rap and made me sit through tape after tape while he slowly explained what they were saying in their lyrics to me. So, you see, I was exposed to all these lyrics and dope beats at a very young age. I developed a deeper interest in rap, so it was just a matter of time before I started scribbling my own lyrics.
What are your childhood memories?
I remember the very first time I saw Kriss Cross. That was probably in 1990. They were probably just a couple of years older than me and I so wanted to be like them. I think I knew I was going to end up rapping from them. The first song I learnt how to rap was LL Cool J's love ballad. "I need Love"; that was 1987/88, I think.
What do you do outside music?
Right now I am all into music. I've been putting one leg in and out of the business and its crunch time for me now. All or nothing. I am diving in head first and hitting it with all my muscle.
What gives you inspiration?
My inspiration comes from all around me. My life is my number one source of inspiration. Also, my relationships, ups and downs in my everyday life, society all give me inspiration. And I am rather inspired by the National Basketball Association (NBA) athletes' mentality. I am a big fan and they keep me going lyrically. I am also inspired by every single art form I come across - movies, books etc.
Who are your role models?
My role models include the late Notorious B.I.G for his lyrics; Jay-Z for his talent and business mindset and Sean Diddy Combs for the branding and packaging of his acts.
How did you come about the name Teeto Ceemos?
Well Teeto is derived from my middle-name 'Oluwatitofunmi'. I just pulled the Tito in the name out and spelt it differently - Teeto. The Ceemos part is entirely abstract and if I disclosed its source it would seriously make you question my sanity (laughs). I really like the name; e sweet for mouth.
Oshamo, your hit single is enjoying massive airplay on the radio and TV stations. How do u feel about it?
I am honestly thankful to God. That was my first single and I honestly didn't expect it to do so well. There is a lot more where that came from, so keep your eyes and ears on this brother.
What's your relationship with Mo Chedah?
We got an egbon and aburo (brother and sister) thing going on. There is nothing more to it. She is my sister and fellow artiste; Idon't know if you heard otherwise oh.
What brought about the idea of Oshamos video?
We simply showed up on the set with the props Clarence Peters (the producer) demanded. We had no script whatsoever; everything was impulsive and we just went with our individual ideas. I would say Clarence is a genius.
Who are your friends in the industry?
There are too many names to call oh. I am practically cool with everyone and if I could say so myself I am one of the easiest peeps to get along with.
Who would you love to do a collabo with?
Mary J.Blige, and locally I would love to collaborate with any genuinely talented R&B vocalists we have in the land.
What is your most embarrasing moment?
Honestly I don't think I have had one yet. I don't think it should be this hard to remember if I had had one.
What's your opinion and advice on piracy?
Piracy is a spiritual warfare. It has its pros and cons; that's the way I see it, but I think they should ease up on the negative side of things so everyone can eat and be happy.
Who is the lucky girl in your life?
E consine you? Take your time o. (What's your business) (laughs).
What is your vision for your chosen career in years to come?
My vision is for my name, along with my registered company's name, "Freshboy Entertainment" to be a household name. To make success of every compilation that I am going to put out thereby generating anticipation for the next one. When my feet are firmly rooted I intend to create an avenue for other artistes to get their product out there ultimately creating a dynasty that would dominate the music scene. Eventually I will branch off into other arts like fashion, movies and so on.
What turns you off?
I can't stand dishonest people, huge turn off it is. I like it when people are straight and don't skedaddle around with matters. Just be real!
Who will you like to meet dead or alive?
A female American R & B act called "Chrisette Michelle". Her music is unbelievable. I think I am her biggest fan around here.
What project are you working on presently?
I am currently adding finishing touches to a compilation that would be available for free download via d internet in the next few months and simultaneously working on my long anticipated album that is scheduled for release soon.
What food would make your day?
Eba with Efo Elegusi. Mere saying it makes my mouth to water. I like it so much. It is my best food.
Where do you relax?
I prefer home. Give me electricity and a nice book or a movie, I can't shout. I could stay indoors with little or no hassles.
What messages do you have for your fans?
Put God first in all you do. There is nothing wrong in being a dreamer. Nothing will happen except you get up and do something about it. It might not come easy. Just keep digging until you strike oil. Persistence, discipline and dedication and you will be alright. There is nothing like doing what you love and progressing at it. Functioning in your element is key.
Story by nollywoodgists.com